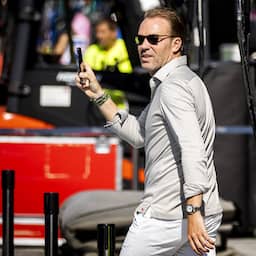 ---
Apr 14, 2023 at 7:30 PMUpdate: 7 minutes ago
Ziggo Sport analyst Robert Doornbos fell victim to a street robbery last month. The former Formula 1 driver was also slightly injured after being beaten with a baseball bat.
Doornbos, 41, was robbed of his Rolex watch and mobile phone during the robbery. He confirmed to RTL Boulevard and De Telegraaf on Friday that the robbery took place, but because of the police investigation he cannot comment further on the incident.
"It was intense," says Doornbos a month after the robbery. "I don't wear expensive watches anymore, just an Apple Watch, so at least I can count my steps," he jokes.
Doornbos arrived at his home in Amsterdam Buitenveldert in the night of Friday 17 to Saturday 18 March when a man unknown to him came walking towards him at an accelerated pace. The man had a club in his hand, with which he almost immediately hit Doornbos on the head.
A second perpetrator joined the fight while the former driver screamed for help. After the perpetrators got possession of Doornbos' valuable watch and telephone, both ran off. The men reportedly had previously placed a GPS tracker under Doornbos' car, with which they could track his location. Police are still looking for witnesses and video footage.
Incident is part of a series of robberies in Amsterdam
Last year, Ajax player Dusan Tadic was also attacked by two men in Amsterdam. They threatened the Serb when he got out of the car, after which the Ajax player tried to flee. It came to a scuffle and not much later the perpetrators fled without loot. It was previously known that the Rolex gang had the footballer in its sights.
In 2021, the home of Israeli footballer Eran Zahavi was targeted by criminals. While the former PSV player was away from home, his family was attacked. That also happened in Buitenveldert.
Doornbos drove a total of eleven races in Formula 1 in 2005 and 2006. After his active career as a racing driver, he became known as an analyst at Ziggo Sport. He still works for that channel, although Ziggo Sport lost the broadcasting rights for Formula 1 last year.
---
---