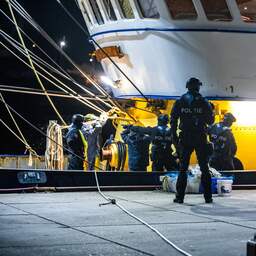 ---
Apr 14, 2023 at 05:45Update: 3 minutes ago
In the night from Thursday to Friday, the police were busy with a major action at the fish market in Vlissingen. Two fishmongers have been arrested on suspicion of trading in undersized fish.
A spokesperson for the National Unit confirms this after reporting on this in the Provinciale Zeeuwse Courant (PZC). The police are not making any further announcements, and say they will release new information on Friday morning.
Shortly after midnight, the police made several raids on fishing vessels moored at the quay near the fish market. 150 agents were deployed, the PZC writes. They checked whether the vessels had undersized fish on board. The crew was also questioned.
The raids followed an investigation by the National Criminal Investigation Department and the Dutch Food and Consumer Product Safety Authority. According to the newspaper, the police arrested the two fishmongers in their home, but a spokesman for the National Unit could not confirm this.
The detained fishmongers are not considered suspects, but will be questioned. According to the spokesman for the police, the investigation of the ships and their cargo is still ongoing.
---
---