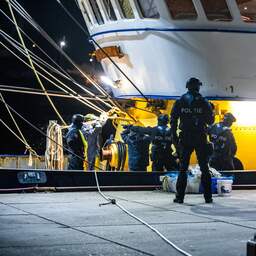 Three fishmongers were arrested in the night from Thursday to Friday during a major police operation in Vlissingen. They are suspected of trading in undersized fish.
A police spokesperson confirms this in conversation with Omroep Zeeland.
Shortly after midnight, the police made several raids on fishing vessels moored at the quay near the fish market. 150 agents were deployed. They checked whether the vessels had undersized fish on board and questioned the crew.
The raids followed an investigation by the National Criminal Investigation Department and the Dutch Food and Consumer Product Safety Authority (NVWA). According to the newspaper, the two fishmongers were arrested in their home, but the police spokesperson could not confirm this.
The detained fishmongers are not considered suspects, but will be questioned. The investigation into the ships and their cargo is still ongoing.
---
---