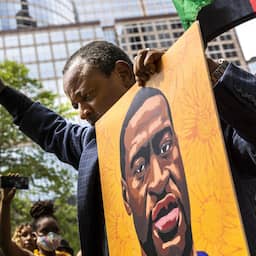 ---
Apr 14, 2023 at 06:54Update: 3 minutes ago
The American city of Minneapolis reached a settlement with two black residents on Thursday. They would have been excessively mistreated by Derek Chauvin, the former agent who is also responsible for the death of George Floyd.
The cases were brought by John Pope Jr. and Zoya Code. Pope will receive $7.5 million (6.7 million euros) from the city of Minneapolis, Code will receive $1.4 million (1.3 million euros).
They are said to have been treated racist in 2017 by the now 47-year-old Chauvin, who was previously sentenced to 22.5 years in prison for the murder of Floyd.
Pope was fourteen years old when police officers, including Chauvin, came to his house because of a report of domestic violence. Chauvin allegedly hit him with a flashlight and pinned him to the ground with his knee. He also did that at Floyd in 2020.
Chauvin allegedly also pinned the other plaintiff, Code, to the ground with his knee on the back of her neck.
Local police reform must prevent violence
The death of 46-year-old black American Floyd led to Black Lives Matter protests worldwide in 2020 and, above all, to criticism of the working methods of the American police. That would be much too violent.
In response to Floyd's murder, the city of Minneapolis recently approved a local police reform plan. The new rules state, among other things, that from now on police officers may only use force if the situation threatens to escalate. The court still has to approve this reform plan.
---
---