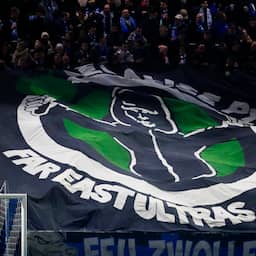 ---
Apr 13, 2023 at 9:11 PMUpdate: 5 hours ago
PEC Zwolle announced measures on Thursday after supporters clashed with fans of FC Eindhoven last Friday. The leader of the Kitchen Champion Division is introducing a mandatory bus combination for all remaining away games and bans alcohol for supporters under the age of 21.
Due to the bus combination, supporters can no longer travel to away games on their own. In addition, there will be a ban on face-covering clothing, PEC reports in a statement.
There will also be a so-called withdrawal procedure. This means that supporters are not allowed to leave the section immediately. "Large swing cloths and atmosphere flags" are also no longer allowed for the rest of the season, both away and at home.
Supporters of PEC are said to have assaulted children who were playing football on a nearby field on Friday after the away game in Eindhoven. According to PEC, that story is more nuanced.
"Just before the end of the game, a small group of about eight young supporters left the section early," the club writes. "In the area behind the stadium, where our supporters were not allowed to come, the police then sent these supporters back to the buses."
"This site was not closed off from the parking lot of the buses and freely accessible. The same group of people was then challenged by a group of about twenty young people from a dark hockey field on an adjacent site. This led to a brief confrontation."
Supporter manages to escape after being bitten by a police dog
Only one fan was apprehended the same evening. According to the police, the emphasis was on restoring peace around the stadium.
Another supporter was bitten by a police dog, but with the help of his fellow supporters he was freed and managed to escape. The police have already launched an investigation to find the other perpetrators.
---
---