---
Apr 10, 2023 at 3:12 PMUpdate: 7 minutes ago
The recovery of the passenger train that derailed in Voorschoten last week due to a collision with a construction crane, started on Monday. Railway manager ProRail cannot yet say how long it will take before the train is removed.
Hoisting and transport company Mammoet will remove the heavily damaged train equipment using a special construction. The train section that was still partly on the track is lifted up with a construction crane and then drives to The Hague Mariahoeve station.
The rear section is now back on track. The front is still held up by a crane. ProRail places new wheel sets under the tilted train set so that it can be driven away. The trainsets together weigh about 1 million kilograms, says a ProRail spokesperson.
If that goes well, then a locomotive must be installed and a timetable must be drawn up. The two trains are then towed to The Hague Mariahoeve station and then to the final destination of Amersfoort. That will not happen until the night from Monday to Tuesday at the earliest, ProRail expects.
If that is not possible, the trains will still be removed from the track via the adjacent meadow and removed via a temporary road. Just like the two others that are already in the meadow.
Receive notifications on news about the train accidentStay informed with notifications
Work will continue on Tuesday
Mammoet is not sure whether everything will work out completely on Monday. That depends on the weather. ProRail and Mammoet say that the work will continue on Tuesday.
Once all trains have been recovered, ProRail can begin repairing the track, platform, overhead lines and underground safety systems. It is not yet known when the train parts will all be gone. The recovery operation will last at least until Tuesday.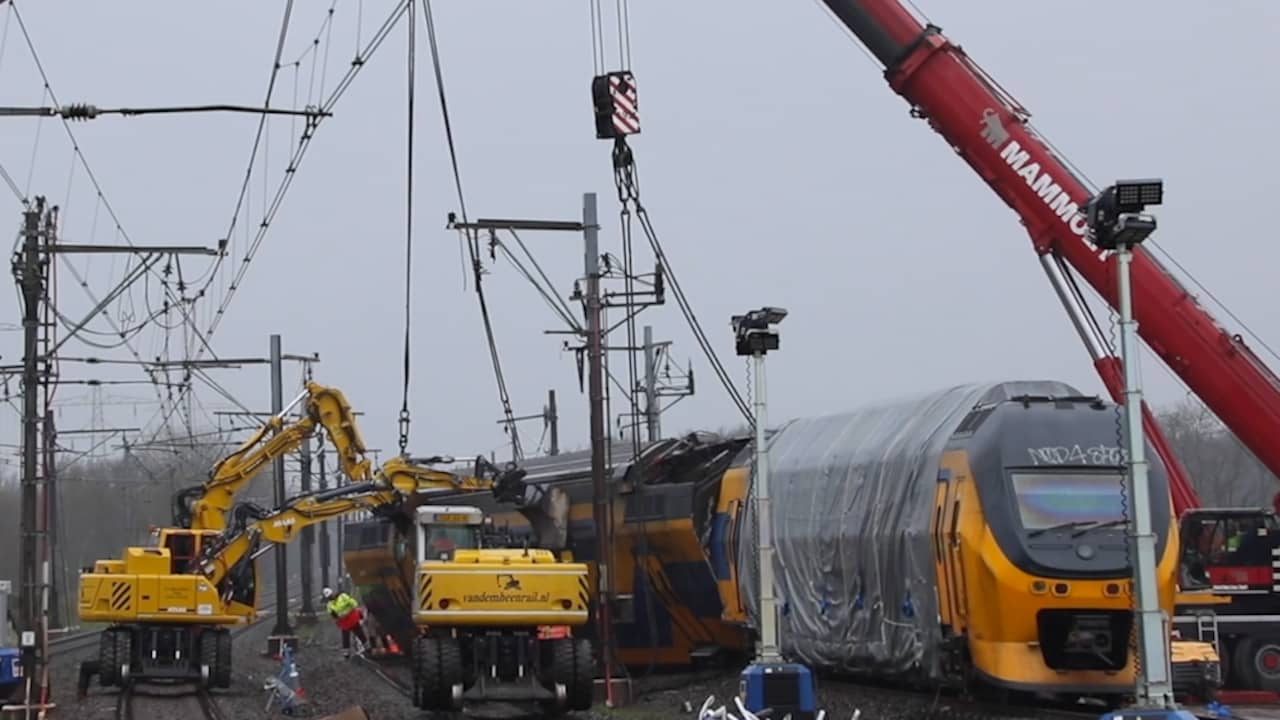 0:37 Play button
Until April 18, no trains between The Hague and Leiden
Last Tuesday, a freight train and an intercity of the Dutch Railways collided with a construction crane. The passenger train derailed and partially ended up in the meadow. The crane operator, an employee of construction company BAM, was killed in the accident. About thirty people were injured.
The last wagons of the freight train were already removed last Thursday. After removing the last train sections, ProRail will start repairing the broken overhead line and cables, the track and the platform of Voorschoten station.
There will be no trains between The Hague and Leiden until at least April 18. According to ProRail, that time is needed to completely clear and repair the track at Voorschoten.
---
---