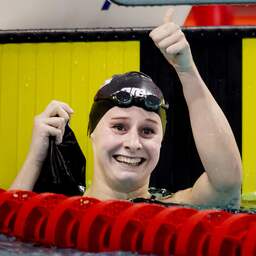 ---
Apr 09, 2023 at 11:17 Update: 11 minutes ago
Swimmer Tes Schouten has also improved her Dutch record in the 100 meter breaststroke in Eindhoven. The 22-year-old from South Holland clocked 1.05.71 in the series, with which she dived two tenths of a second under the time she set in France last month (1.05.92).
Schouten also improved her national record in the 200 meter breaststroke on Friday at the Eindhoven Qualification Meet. She won the final in 2:22.21, more than a second faster than last month in Saint-Germain-en-Laye, France.
The breaststroke specialist has already met the limits for both the 100 and 200 meters for the World Cup in Fukuoka next summer and the Olympic Games in Paris next year.
Kim Busch met the Olympic requirement in the 50 meter freestyle in Eindhoven on Sunday morning. Busch clocked 24.68 seconds, two hundredths under the limit (24.70). Marrit Steenbergen remained above that with 24.84.
Steenbergen improved the national records on the 200 and 400 meter medley in the Pieter van den Hoogenband swimming stadium in recent days and met the requirements for the Games in Paris on the 100 and 200 free.
In the men's 50 freestyle Kenzo Simons dived again under the Olympic limit (21.96) with 21.91. Thom de Boer remained just above that with 22.02. De Boer, who participated in the Tokyo Games on this sprint number, will have a new chance in the final later on Sunday.
---
---