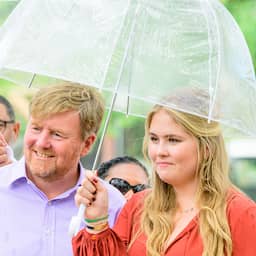 ---
Apr 06, 2023 at 11:16Update: 7 minutes ago
Willem-Alexander is not thinking about abdicating for the time being. The 55-year-old king gives his daughter and heir to the throne Amalia (19) a long preparation time, he says in the podcast he makes with Edwin Evers.
"I'm not thinking about resigning," says the king in conversation with presenter Evers. He explains that abdicating the throne is the result of many factors, such as his health.
"I wish Amalia a long preparation time. With time for herself, time to start a family or whatever she wants to do." The king hopes that she can prepare herself well for the future.
In consultation, father and daughter will ultimately decide when Amalia will take over the throne. "But that's in the distant future."
In the ten-part podcast series Through the Eyes of the King, Willem-Alexander looks back on his reign so far. At the end of this month he will be king of the Netherlands for ten years.
On April 30, 2013, he succeeded his mother Beatrix. She was then 75 years old. "It felt like yesterday," the king says about this now. "It was a beautiful day, with a special atmosphere."
Willem-Alexander had 'out of body experience'
Willem-Alexander can still remember one moment in particular. "That was when the Wilhelmus was sung. I really had an out of body experience, as if I was floating above myself. I thought: what the hell are you doing? Who do you think you are?"
The king tries to ask himself every day why he is allowed to do this work. "That gives me an extra boost to commit myself," he explains. He acknowledges that there is less and less confidence in the monarchy. "We have to work on that." He will elaborate on this subject in a later episode.
Through the eyes of the king will appear every Thursday morning for the coming weeks. Evers previously recorded the conversations in the king's office.
---
---