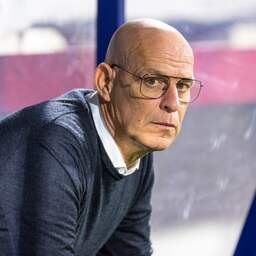 TOP Oss filed a report on Thursday because of an "incendiary image" on social media. The edited image shows trainer Klaas Wels. When editing, "the boundaries of the unseemly have been far exceeded", says the Kitchen Champion Division club.
According to TOP Oss, this is an image that "plays down the Holocaust". The club considers the record "offensive and threatening" and has therefore gone to the police.
"Football is emotion. And emotions can sometimes run high," the club writes in a statement. "We really appreciate that TOP Oss supporters feel closely involved with the club. Even if they disagree with certain decisions of the club management."
"After all, that dissatisfaction is born of a love for the club that we all ultimately share, regardless of how we view specific matters. Unfortunately, it has turned out that a few go so far that the boundaries of the unseemly are far exceeded."
TOP Oss is seventeenth in the Kitchen Champion Division.
---
---