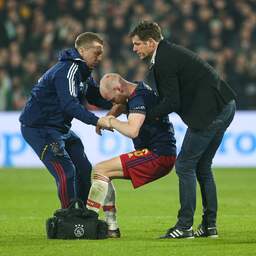 Every day you can read what our readers think of the big news of the day. Today: this is what you say on our reaction platform NUjij about the lighter incident during Feyenoord-Ajax. A lighter was thrown at the head of Ajax player Davy Klaassen from the audience.
User English_Dutchman says:
"I was looking forward to it last night. Quickly after work after home to watch the 3rd clash with Ajax of the season. Lucky goal from Tadic, nice equalizer before the break and again a strange goal against which we don't often see at Feyenoord this season Yes Feyenoord, my club in heart and soul."
"And then….. captains who have been fighting with each other for a while for unclear reasons, resulting in that yellow lighter. Several weirdos throw stuff at the players. As soon as I saw Klaassen's blood, my stomach turned. We again. A bunch of idiots, because I have no other word for ruining a great season in a few seconds."
"Anger and shame is what my feeling indicates. Anger at what inspired them to ruin a nice evening, but more shame because it concerns my club again. The rest of the match didn't interest me anymore. I think it's okay for a while…. sorry Klaassen and Ajax that this happened Good luck in the final!"
User Henk_Bezemer says:
"Lifelong Feyenoord supporter here; it still worked out well for Ajax in terms of profit and they wouldn't have deserved a different result after the sad action of one of the spectators. It was perhaps to teach such 'supporters' a lesson once and for all would have been better to stop the match and award Ajax the win, so that all spectators would have felt the pain of this disgusting action, which might then ensure that social control returns to the stadium and that is absolutely necessary because the stadium ", Feyenoord, the KNVB and the government cannot take any conclusive measures or there is an airhead who will come up with something to kick ass again. A sad evening and yet another blot on Feyenoord's coat of arms."
"Yesterday they should have stopped regardless of the score and declared Ajax the winner. Fortunately Ajax still wins because otherwise it would have been very sour. Even if Feyenoord had been ahead, stop, ready. And from now on, every person who throws something will never come in again and he has to report every game."
"Security must be scaled up so that nothing unauthorized enters the stadium. This cannot be done by stewards because they are not capable of that. Cost of security for the clubs. Then the players, criticizing the referee, immediately get a yellow map. Disturbances, ditto. If it's possible in rugby, then also in football. Football is led by weak and frightened administrators. In England it succeeded, you can do it here too. Police don't have time for the duty to report? Outsource to the security company. Always keep saying that this is not possible here, nonsense. Take action and then you will see, in a year it will be solved. Where there is a will, there is a way."
"I (020) think it's all a bit exaggerated. How long hasn't this been happening? No stadium in Europe excepted. If 'one' really wanted to prevent disturbances and excesses, 'one' would take effective measures. Would supporters be more self-sufficient? -regulation. Only that costs money, effort and insight and that is not there. So consequences. Just swallow and continue."
Would you also like to shine your light on this subject? Then click here. The comments above are displayed as posted by users. The editors of NU.nl are not responsible for any language errors.
Did you find this article via Net In? You can find similar documents every day via the NUjij button at the bottom of your app.
---
---