---
Apr 05, 2023 at 11:22 PMUpdate: 7 minutes ago
General manager Dennis te Kloese apologized to Davy Klaassen on behalf of Feyenoord on Wednesday evening for the misconduct of some spectators. After an hour of play in the semi-final of the cup tournament, the Ajax midfielder was thrown a lighter on the back of his head, which led to a serious wound.
The match was then halted for half an hour. When the game resumed, Klaassen tried to continue playing, but the midfielder had to be replaced after two minutes. The suspected perpetrator was soon arrested.
"The field is sacred, the players on it must always feel safe," Te Kloese told ESPN, after personally apologizing to Klaassen. "We know that the atmosphere outside the field can be grim. But that should never be at the expense of a player. Apologies on our behalf to Klaassen are in order."
During the competition match between Feyenoord and Ajax at the beginning of this year, high nets hung around the entire field in De Kuip. On Wednesday that was not the case on one side of the field, so that the TV cameras had a clear picture. It was precisely from that side that an object was thrown on Klaassen's head.
"We thought after the last time that it was now possible to remove part of the nets," said Te Kloese. "The camera had a better view that way. But we see that this is not possible. That is a very sad, but hard observation."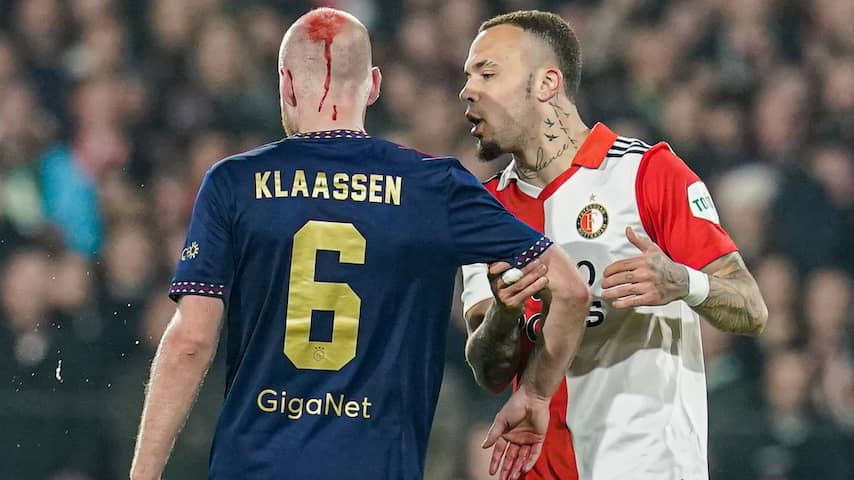 Davy Klaassen had a serious head injury. Photo: Pro Shots
'The only positive point is that the perpetrator has been caught'
According to Te Kloese, both Feyenoord and Ajax wanted to continue playing football after consultation. "I also want to thank Ajax for that", Te Kloese continued. "And furthermore, the only positive point is that the perpetrator was caught immediately."
"The sanctions will be tough for him. Furthermore, I don't think there is a quick solution to this problem, otherwise we would have introduced it a long time ago. We have to evaluate and analyze what went well and what didn't. I will not rest easy tonight to sleep."
At the start, the match in De Kuip also had to be interrupted because fans had misbehaved. Then smoke development due to preliminary work led to delays. Te Kloese: "It was a very disappointing evening on all fronts."
---
---