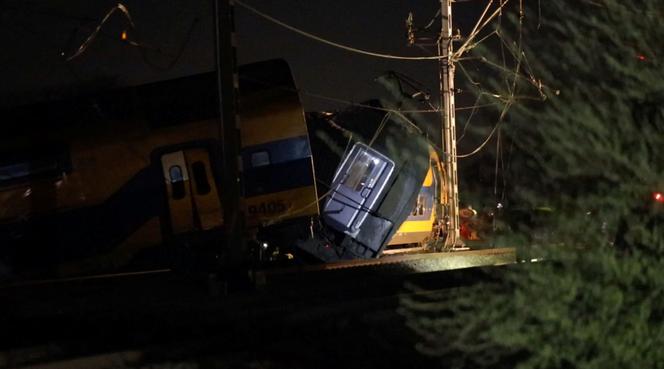 A passenger train derailed in Voorschoten, the Netherlands, on April 4, 2023. KYRLIAN DE BOT / REUTERS
The derailment of a passenger train left one dead and "around thirty injured", including nineteen seriously, on Tuesday April 4, in Voorschoten, between The Hague and Amsterdam, in the south of the Netherlands, according to the services of rescue. "Eleven people were collected from local residents, while the seriously injured were taken to hospital," the emergency services further specified on their website.
The double-decker train carrying around 60 passengers derailed around 3:25 a.m. after hitting construction equipment on the track in this village about 8 km north of The Hague, according to the emergency services.
The authorities have now scaled up to #GRIP3. There is also now 'code 50', so people take into account… https://t.co/bIDVHEJmIk
"Specialists are at work to secure the train," they added. "The cause of the accident is under investigation. »
Footage of the crash shows a first lead car in a field it plowed on the way and a second leaning to the side after also derailing. A third car remained on the tracks and a fourth caught fire, reported, for its part, the Dutch News Agency (ANP).
At #voorschoten, the derailed train is empty on and especially next to the track. The -possible- cause of the derailment… https://t.co/4EEHy2AMvl

— geert Curtain (@Geert Curtain)
Traffic interrupted
Traffic on this line which serves cities such as Amsterdam, Brussels and Paris has been interrupted and will not resume until Tuesday afternoon, according to Dutch railway officials.
Ambulances were immediately sent to the scene, as well as a rescue helicopter to transport the most seriously injured. The severity of their injuries was not immediately known.
"We heard a huge shock and suddenly the lights went out," an unidentified witness told local television Omroep West. "We couldn't get out of the train right away because there was no more electricity," added this man, visibly in a state of shock. "We finally got out after what felt like hours. »
The worst train disaster in the Netherlands dates back to January 8, 1962 when two passenger trains collided in Harmelen, near the central city of Utrecht, killing 93 and injuring 52. The accident had occurred in thick fog and the driver of one of the two trains had not seen a traffic sign.
In 2016, a train hit a construction crane in the center of the country, killing one and injuring six. In 2012, a train accident near Amsterdam also left one dead and 117 injured.
Test your general knowledge with the writing of the "World"
Discover
---
---