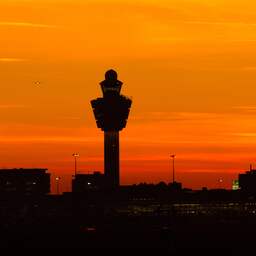 ---
Apr 03, 2023 at 9:40 PMUpdate: 14 minutes ago
Schiphol wants to scrap all night flights in the next two years. In this way, the airport wants to prevent noise nuisance. That is what interim CEO Ruud Sondag says to Het Parool. Noisy aircraft are also gradually being banned and the airport will stop using private jets.
Schiphol wants to get rid of all flights between midnight and 5 a.m. Between 5 a.m. and 6 a.m., planes are only allowed to land. Only then can it be taken off again. The only exception to this is when safety is at stake, says Sondag.
Sondag emphasizes that these steps must be taken because too little has been done about noise pollution in the past fifteen years. "We see the problems with night flights increasing year in, year out. If risks increase, then you have to do something about it. Now we make short work of it."
Currently, 10,000 flights per year take place during the night hours. About 55 percent of this is carried out by Transavia. Sondag emphasizes that consultation with the airlines is necessary, because the measure "indeed has an impact".
Get notified of new messagesStay informed with notifications
Measures to take effect in 2025 at the latest
The scaling down of night flights is part of a series of measures against noise nuisance that will take effect this year and will apply no later than 2025. "But as far as I'm concerned a year earlier," Sondag adds.
According to Het Parool, a night closure mainly affects 'holiday flyers'. They usually want their flight to arrive as late as possible in the evening and depart as early as possible in the morning.
In addition, according to the newspaper, the night closure mainly affects transfer flights. For example, many flights from North America arrive at Schiphol early in the morning, so that passengers can transfer to their next flight. Sondag tells Het Parool that the consequences for that transfer network are limited.
Follow more steps
The measures that Sondag is now announcing mainly focus on noise. But banning noisy aircraft also has positive environmental effects, because these aircraft are often more polluting.
More steps will follow. "In time, we will come up with concrete proposals in the field of emissions in line with the Paris Agreement (Paris climate agreement from 2015, ed.). We will then include them in our operating conditions, just like now with noise, so that everyone must adhere to them. to hold."
On Wednesday, the judge will rule in the aviation industry's summary proceedings whether the cabinet may continue with the reduction plans for Schiphol. But Sondag denies that this has affected his plans. "I think we should take measures. We should not keep poldering, institute summary proceedings or shout: growth, growth, growth, as the holy grail. That feeds all the negativity in the debate about aviation."
---
---