---
02 Apr 2023 at 14:09
FC Twente regained the lead in the Women's Eredivisie on Sunday. The team of trainer Joran Pot was 2-0 too strong for ADO Den Haag at home, which limited the damage.
FC Twente already scored 75 times for this match, but against ADO Den Haag, the home team had a lot of trouble scoring despite countless opportunities. Elena Dhont already made it 1-0 in the twelfth minute. The attacker pushed the ball in through the inside of the post.
Thanks in part to ADO keeper Barbara Lorsheijd, it was not until the 67th minute that the 2-0 was on the scoreboard. Twente's second goal was one to frame. Fenna Kalma placed the ball in the far corner with great feeling.
Renate Jansen should have made it 3-0 in the final phase. The captain remained calm in the penalty area and simply cut out her opponent, but her shot was not good enough to beat Lorsheijd. Not long after, Marisa Olislagers miraculously failed to get the ball in from close range.
Due to the business victory, FC Twente is back in the lead in the Women's Eredivisie. Ajax, which booked a great victory at sc Heerenveen on Friday evening (2-5), has two points less than Twente.
Both teams have only lost once this season. On April 30, Ajax and FC Twente will play against each other.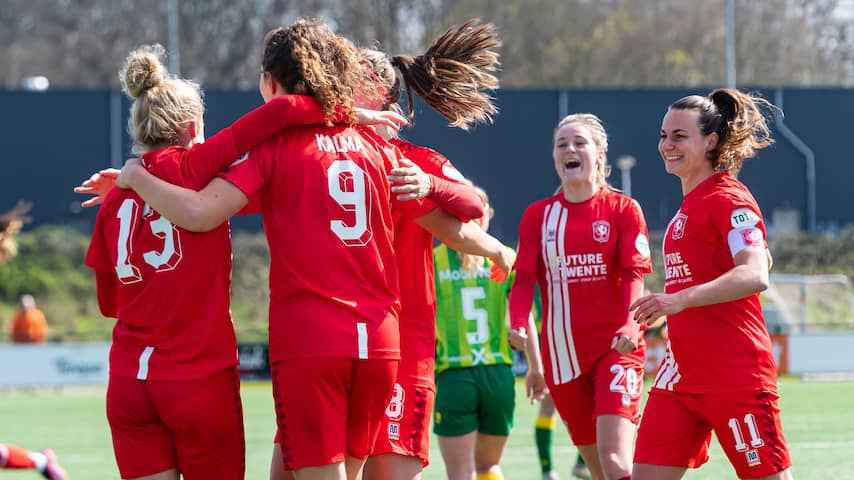 Foto: Pro Shots
---
---