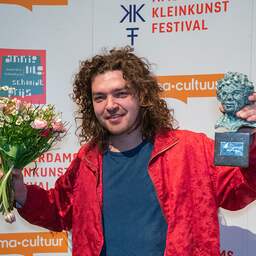 Flip Noorman is the winner of the 31st Annie MG Schmidt Prize. The singer received the award and a cash prize of 3,500 euros for his song Ze Weten Wie Je Bent, from the theater program Love it.
Cor Bakker and Meral Polat, among others, were on the jury. According to them, "this song grabs you by the throat". The jury also said that this song is not a song "after which you calmly go on with your life with a shrug". "That's why it's such a good theater song."
The Annie MG Schmidt Prize is an initiative of Buma Cultuur and the Amsterdams Kleinkunst Festival. The award has been presented annually since 1992 to the lyricist, composer and artist of the best Dutch-language theater song of the past year.
Johan Goossens, Jan Beuving and the Musketeers (consisting of Paskal Jakobsen, Bertolf Lentink, Daniël Lohues and Paul de Munnik), among others, were also nominated for the prize.
Previous winners of the Annie MG Schmidt Prize include Brigitte Kaandorp, Alex Klaasen and Jeroen van Merwijk.
---
---