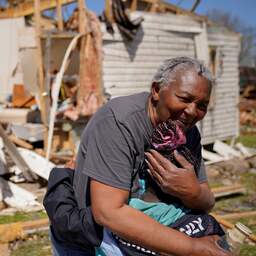 Dozens of tornadoes in the United States have killed at least 26 people this weekend. The storm hit from northern Michigan to the Gulf of Mexico in the south. Hundreds of thousands of people will be without power this weekend.
The fatalities occurred in the states of Arkansas, Alabama, Mississippi, Tennessee, Illinois and Indiana. In Illinois, for example, a storm destroyed the roof of a full concert hall. One person was killed and 28 injured.
The town of Wynne in Arkansas has been almost completely wiped off the map. Four people were killed there, according to American media. Most of the fatalities, seven, occurred in southwestern Tennessee.
America has been dealing with severe storms for some time now. Just last week in the state of Mississippi, 26 people were killed in a tornado that raged for more than an hour and traveled nearly 60 kilometers.
The US weather service warns of more severe weather. Thunderstorms are moving towards the eastern part of the United States. Wind gusts of more than 100 kilometers per hour are expected, which could cause power outages and fallen trees.
---
---