Director Ari Aster did play a very nice April Fool's joke yesterday with the audience who bought tickets for a screening of his classic Midsummer (2019). They got a nice surprise: they were the first to see an early screening of Aster's latest film Beau is Afraid (2023) and the reactions are impressive.
The best April fools joke
Two weeks before its release in the United States, moviegoers at the Alamo Drafthouse were shown the film. Beau is Afraid is a three hour long film starring Joaquin Phoenix as a frightened but kind man. His mother has always been very concerned and unfortunately his father was never in the picture. Now his mother has passed away and he is on a journey home facing his darkest fears.
The first reactions
The reactions are pouring in and are mostly positive. It would be Phoenix's best acting performance to date, a film that draws tears and the perfect combination of humor and horror.
Beau is Afraid is a lot to take in all at once, but I really loved it. There's a lot going on and it's all about what lingers on insane, paranoid stuff. Phoenix is ​​incredible and LuPone steals the show!

Ryan McQuade, Awards Watch
As we are used to from Ari Aster, Beau is Afraid will also polarize. It is a mix of dark humor, psychological introspection and discomfort. It's almost impossible to look away as Beau processes his past, present, and future. On a technical level… well done. For anyone who thinks Beau is Afraid isn't a horror movie.. um no it's not traditional in any sense, but it has gruesome bits in it.

Sarah Musnicky, Vital Thrills
A complexly layered, Freudian tragicomedy. It's like being sandblasted in the face with fear for three hours. Phoenix of course shines and there is a lot of brilliance in it, but now I really need a massage and maybe a meditation retreat.

Jeff Ewing, Looper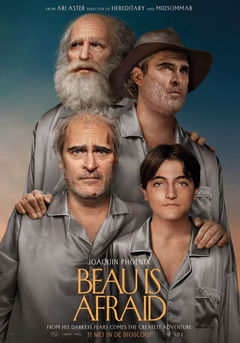 A frightened man learns that his mother has died under mysterious circumstances and returns home to make an alarming discovery about his past.
Beau is Afraid running from 11 mei in the cinema.
Beeld: Still 'Beau is Afraid' via TMDb
---