Is wholesaler NVIG Supplies from Borne targeting home cooks or users of nitrous oxide with the internet sale of cartridges for whipped cream dispensers? Buckaroo, which arranges payments for web shops, is sticking to the latest and has thrown NVIG out of its customer base. Entrepreneur Klaas Gringhuis and his lawyer are furious.
This article is from Tubantia. Every day a selection of the best articles from the newspapers and magazines appears on NU.nl. You can read more about that here.
"They don't say it out loud, but my client is seen by Buckaroo as a drug trafficker. And the judge agrees. That's what this verdict comes down to. Very bad," says lawyer Carlo Mensink.
Lubricant, condoms, vitamins, wheatgrass, slimming products and cartridges for whipped cream syringes; wholesaler NVIG Supplies is at home in many markets with the five web shops that it operates under the name of Lifestylesupplies.nl.
But the whipped cream cartridges got NVIG Supplies into trouble. The ampoules filled with nitric oxide are not only used to spray cream cakes and desserts, but also to fill balloons with the recently banned intoxicant laughing gas.
Sponsored Link
The fact that NVIG Supplies mainly focuses on nitrous oxide users with the sale of the ampoules, was apparent, according to payment provider Buckaroo, from a sponsored link with which the company from Borne advertised on Google. Anyone who typed the term laughing gas in the Google search box found the link at the top of the search results that led to the website with the nitric oxide-filled ampoules.
In addition, the Twente webshop exceeds the maximum permitted quantity for sales to private individuals and the catering industry. This applies to a maximum of five packs of 50 ampoules (250 in total), while NVIG Supplies offers six and twelve packs of 50 ampoules, respectively 300 and 600 in total.
Afraid of losing a license
Buckaroo is afraid that the Dutch Central Bank will withdraw its license if it facilitates companies that violate the opium law. The court finds that this indeed cannot be expected of Buckaroo and gives Buckaroo permission to immediately terminate the agreement with NVIG Supplies.
Klaas Gringhuis and his lawyer Carlo Mensink see it completely differently. Mensink: "We have been litigating against the Health and Youth Care Inspectorate and against the Tax and Customs Administration for years about those whipped cream cartridges. The tax authorities have now agreed with us: my client pays the low tax rate on the whipped cream ampoules that he sells. had to do, the high rate applied."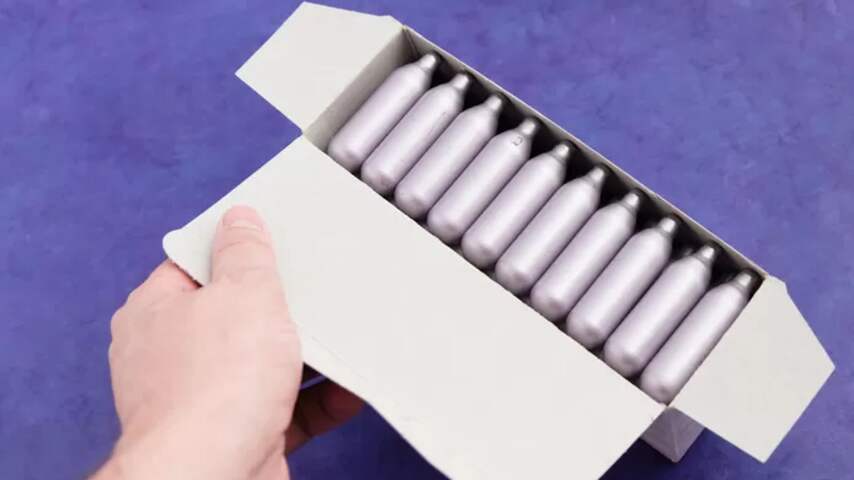 -Foto: Getty Images
Medical laughing gas
According to Mensink, his client Gringhuis has repeatedly urged the ministry to maintain the import of medical nitrous oxide. "Medical nitrous oxide was imported from China under false pretenses by a large party to be sold as an intoxicant in the Netherlands. We insisted on enforcement, but the government did nothing about it. Proceedings are still pending regarding that enforcement requirement. at the State Council."
Owner Klaas Gringhuis of NVIG Supplies says that he does not like the trade of laughing gas: "63 users have died and more than 60 have become permanently disabled. That is the fault of the Dutch state. It found 500 million revenue from sales tax more important. It was said that there would be no money for enforcement, but in eight years an average of 62.5 million sales tax has been collected on nitrous oxide per year. There was enough money to enforce, but the will was not there."
Meanwhile, Gringhuis now has a problem. Now that Buckeroo no longer has to deal with the financial settlement of the internet sale of its whipped cream ampoules from the court, he has to look for another payment provider. According to lawyer Mensink, a second party has already dropped out. Mensink: "We are a bit afraid of a domino effect, that more will drop out."
---
---