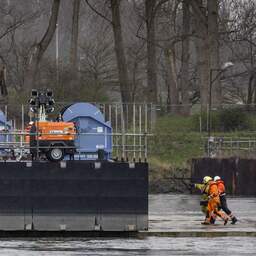 ---
01 Apr 2023 at 16:16
Shipping will have problems at the Nieuwe Waterweg in the port of Rotterdam until at least Sunday. Rijkswaterstaat reports that ships will not be allowed passage until at least 07:00 on Sunday morning due to an error during tunnel work.
Something went wrong during the installation of the first tunnel section for the new Maasdelta tunnel. Actually, the waterway should have opened on Saturday morning.
The first tunnel section of the Maasdeltatunnel is now in the right location. But due to leakage at the so-called bulkhead, to which the second tunnel section must be connected in two weeks, a short circuit has occurred, which means that the pumps do not work. Rijkswaterstaat is currently working with the BAAK construction consortium, which includes Ballast Nedam, among others, on a solution to complete the work.
'Divers hard at work to seal leakage'
This is done by installing extra pipes and extra pumps to pump water out of the tunnel section. "Divers are working hard to close the leak. They have already been able to close part of the leak, but we need more time," Rijkswaterstaat said via Twitter.
According to a spokesman for the Port of Rotterdam Authority, the situation will not cause a large traffic jam of ships on Saturday. This is because shipping traffic had already been informed in advance that the Nieuwe Waterweg would be blocked for a long time from Friday to Saturday. Inland vessels can circumnavigate via the Hartel Canal and the Oude Maas.
Seagoing vessels that are hindered have to wait longer at sea before they can enter the port. However, the Maasvlakte and the Europoort are accessible for shipping.
Possible additional costs for some companies
Entrepreneurs association evofenedex, which represents the trade and logistics interests for thousands of companies in the Netherlands, has "no indications yet that there is great panic" among shippers. A spokesperson points out that it is usually quieter in transport during the weekend. But she cannot rule out the possibility that some individual companies will incur additional costs if, for example, certain cargo arrives at its destination later.
The Maasdelta tunnel that is under construction is part of the Blankenburg connection. From 2024, it must connect the A20 motorway near Vlaardingen with the A15 near Rozenburg. The tunnel sections of which the tunnel will consist are 185 and 205 meters long. According to the Port of Rotterdam Authority, tunnel sections of this size have never been built and sunk in the Netherlands before.
---
---