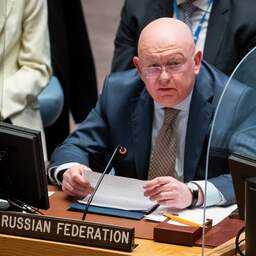 ---
Apr 01, 2023 at 2:49 PMUpdate: 2 minutes ago
Russia will hold the presidency of the UN Security Council for a month from Saturday. Ukrainian Foreign Minister Dmytro Kuleba called the fact that Russia will take over the presidency on April 1 "a bad joke". According to him, the world cannot be a safe place with Moscow at the helm.
The presidency of the council is on a rotational basis where each member assumes it for a period of one month. The Security Council has a total of fifteen members, five of which are permanent. Russia is one of those permanent members.
The other permanent members of the council are the United States, China, the United Kingdom and France. The council can only take important decisions if all five countries agree. For that reason, the Russian presidency is unavoidable.
As chairman, Russia cannot influence the decisions of the council, but it can set the agenda. The last time Russia chaired the council was in February last year, precisely the month that the country invaded Ukraine.
It means that the Security Council is led by a country whose president is on the arrest list of the International Criminal Court (ICC) in The Hague. Vladimir Putin may have been guilty of war crimes by taking children from Ukraine to Russia. The ICC is not a UN institution, incidentally.
Russia has already announced a meeting in which it wants to discuss "the real situation" of the Ukrainian children brought to Russia. According to the ICC, the real situation is that the Russians illegally transferred children from the occupied territories of Ukraine to Russia and that Putin was responsible for this.
---
---