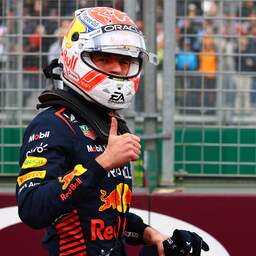 ---
Apr 01, 2023 at 09:15 Update: 3 minutes ago
During qualifying for the Australian Grand Prix, Max Verstappen only found the grip for a really good lap in his very last attempt. Before that, the Dutchman had a hard time on the smooth asphalt of Albert Park.
"I was really happy with it", Verstappen looked back on his final lap in Melbourne. The Dutchman was under pressure from Lewis Hamilton and Fernando Alonso, both of whom were only a few thousandths off Verstappen's time. Everyone could make one more attempt, and the Limburger put things in order.
"It was very difficult to find grip. Everyone suffered from that," Verstappen explained afterwards. "Especially in the first corner it's very difficult to get your tires going. It's been that way since they put new tarmac here last year. It's kind of the story of the weekend."
Verstappen did have good times in qualifying, but it was clearly more difficult than during the first two Grands Prix of 2023. "In the end I had one more attempt, and luckily it worked," said a relieved Verstappen.
Top ten qualifier Melbourne

Max Verstappen (Red Bull): 1.16,732
George Russell (Mercedes): +0,236
Lewis Hamilton (Mercedes): +0,372
Fernando Alonso (Aston Martin): +0,407
Carlos Sainz (Ferrari): +0,538
Lance Stroll (Aston Martin): +0,576
Charles Leclerc (Ferrari): +0,637
Alexander Albon (Williams): +0,877
Pierre Gasly (Alpine): +0,943
Nico Hülkenberg (Haas): +1,003
Surprised by Mercedes
In the absence of teammate Sergio Pérez at the front, Verstappen will be joined by George Russell on the front row on Sunday. Lewis Hamilton starts third, after qualifying went well for Mercedes.
"I'm a bit surprised," said Verstappen about Mercedes' form. "I think they are a bit too," he added with a laugh. "Looks like they got the tires working well."
Pérez went off the track early in qualifying due to a problem with his car. Verstappen does not think he will see his teammate again in the race. "I don't expect to have to deal with him, no. It is very difficult to overtake here, although the extra fourth drs zone does help him", he estimated the chances of the Mexican starting twentieth.
Full of confidence for the race
Verstappen himself assumes that he can drive a good pace in the race. Due to rain, the teams were unable to do a race simulation in the second free practice session, but the World Cup leader did so in the third practice session on Saturday.
"Then I drove a long run, so I know what the tires can do. Anyway, our car has been good in the race so far," he said confidently.
He was also not worried about the reliability of his Red Bull, even though Verstappen complained about downshifting during qualifying. "That's not a problem, just something that's not right with our car. I think we always have to improve."
The Australian Grand Prix starts on Sunday at 7 a.m. Dutch time.
---
---