---
01 Apr 2023 at 15:40
The Australian Grand Prix in Melbourne is one of only three races on the current Formula 1 calendar that Max Verstappen has not yet won, but there is a very good chance that that will change on Sunday. The competition seemed to be close on Saturday, but the Red Bull is normally a clear favorite on Sunday.
The fact that the Dutchman had a hard time in qualifying had everything to do with the combination of tyres, cold weather and the asphalt of Albert Park. It was very difficult to get the tires to work. Verstappen eventually succeeded, just like the Mercedes drivers. Ferrari missed the mark.
Still, Charles Leclerc and Carlos Sainz should not be completely wiped out for the podium. Not many long runs were done in the run-up to the race due to rain-soaked free practice, but Ferrari is confident in race pace.
What Mercedes can do is still a question mark, but the chance that at least Fernando Alonso in the Aston Martin will pose a threat is high. And then the Ferraris will probably be added.
Receive notifications of important developments around Max VerstappenStay informed with notifications
Verstappen is on his own, but the surplus of speed in his Red Bull should be enough to keep the battles for the podium far away in his mirrors. After a difficult Saturday, Sergio Pérez comes from the last row. Verstappen does not expect to see the Mexican again on Sunday, and the Mercedes drivers also think it is too difficult to overtake in Melbourne for Pérez to come forward.
Nyck de Vries hopes to be able to battle for the points from fifteenth place. AlphaTauri brought the necessary updates to Australia, and they seem to be having an effect. The point limit is therefore in sight.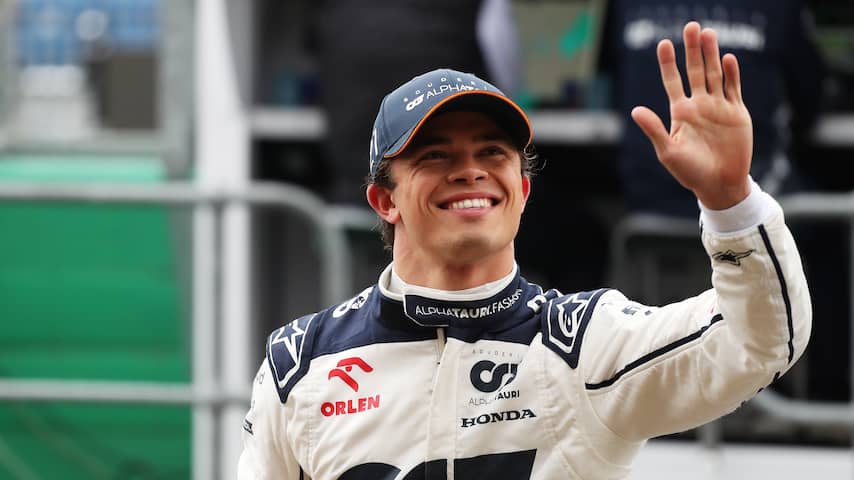 Nyck de Vries started the Australian Grand Prix in fifteenth place. Photo: Getty Images
One stopper from medium to hard most likely
Pirelli prescribes a one-stop strategy with the start on the medium tires and a second stint on the hard tyre. The stop should then take place between lap 17 and lap 21. The same strategy is also possible with a soft start, albeit a little slower. A third less likely option is a two-stop using all tire types.
With Pérez starting from last place, Verstappen has a great opportunity to significantly expand his World Cup lead on Sunday. The Dutchman is currently one point ahead of his Mexican teammate.
The Australian Grand Prix is ​​over 58 laps and starts on Sunday at 7 a.m. Dutch time.
Starting grid GP Australia
Max Verstappen (Red Bull) George Russell (Mercedes) Lewis Hamilton (Mercedes) Fernando Alonso (Aston Martin) Carlos Sainz (Ferrari) Lance Stroll (Aston Martin) Charles Leclerc (Ferrari) Alexander Albon (Williams) Pierre Gasly (Alpine) Nico Hülkenberg (Haas) Esteban Ocon (Alpine) Yuki Tsunoda (AlphaTauri) Lando Norris (McLaren) Kevin Magnussen (Haas) Nyck de Vries (AlphaTauri) Oscar Piastri (McLaren) Guanyu Zhou (Alfa Romeo) Logan Sargeant (Williams) Valtteri Bottas (Alfa Romeo) ) Sergio Perez (Red Bull)
---
---