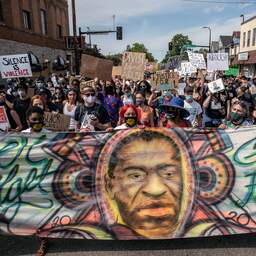 ---
Apr 01, 2023 at 06:24 Update: 7 hours ago
The authorities of the US city of Minneapolis approved a plan for reforming the local police on Friday. The impetus for the reform is the violent death of George Floyd in 2020.
46-year-old black American Floyd was killed in 2020 by a white police officer. That led to Black Lives Matter protests in the United States. But it also led to criticism of the working methods of the American police. That would be far too violent.
The local police reform plan aims to change that. The 144-page document was the result of negotiations between the local Human Rights Department and the city council.
The new rules include that police will no longer be allowed to stop vehicles based on minor offenses such as a broken taillight. Also, someone may not be searched because of a smell of weed.
In addition, officers may now only use force if the situation threatens to escalate. Electroshock weapons may only be used if there is reason for an arrest or for protection.
The court still has to approve the reform plan.
---
---