---
Apr 01, 2023 at 05:00Update: 11 minutes ago
Maxime Meiland experienced quite a few tough moments in her younger years. Although we mainly know the Noordwijk woman from the airy Chateau Meiland, she shares this other side in her recently published biography. Despite the sensitive subject, she expects many negative reactions. To deal with this, Meiland also wants to seek help.
In the book Maxime: Abused, derailed and now… happy!, written by journalist Jan Dijkgraaf, Meiland talks about the more difficult periods in her life. For example, she became the victim of unwanted sexting (sharing nude photos via social media, ed.) And she was also raped several times. When she went to report it, she was turned down by the police.
Meiland then isolated herself and, due to her negative experiences, started partying and drinking a lot. Eventually, thanks to therapy, she ended up on the right track. There is also room in the book for lighter moments, such as the meeting with her husband Leroy and the birth of her daughters Claire and Vivé.
With the book we see a different side of the 27-year-old reality star than usually in Chateau Meiland. She shares highly sensitive information and acts vulnerable. Still, she expects negative reactions. That's because she already experienced that after her appearance on the talk show Humberto, where she announced the arrival of her life story. Some viewers responded that Meiland only shares her story to make money.
"Yes, I was shocked by that. I thought: this could be fatal for me," Meiland says in conversation with NU.nl. "I still sometimes think: why did I write a book? Because of those negative reactions, which will undoubtedly come. It is also impossible to avoid them all."
If the reality star receives hate messages about Chateau Meiland, it does not affect her. "But this is so personal, so different. How can you be so ugly? I'm just telling my story and what happened to me. So I'm going to get help with this and talk to someone about how I can best deal with this. "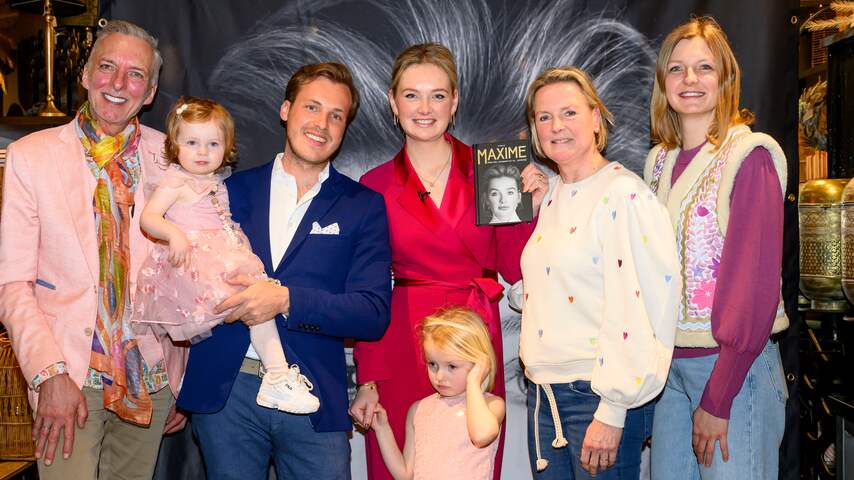 The Meiland family, with from left to right: Martien, daughter Vivé (1), Maxime's husband Leroy, Maxime, daughter Claire (4), Erica and Montana.Photo: BrunoPress
'As a family we don't talk about difficult things'
Meiland found it intense to read her story again. "Much more intense than how I have it in my head, because it's summed up like that. It's actually a lot of trouble in a few years."
The writing didn't help her process the events, because she already did that in therapy. "But it's still good to talk about it. And now I also realize how different my life looks now. When I received therapy, I was still in the middle of it. Now my life is so different, so beautiful."
Martien Meiland, who published his own life story in book form with Dijkgraaf a few years ago, also found it difficult to read his daughter's book. He knew what had happened to her. "But we don't talk about it as a family," says the former lord of the castle.
"In the difficult parts, I would watch a program on my tablet in between. And then I saw her book in the corner of my eye, with her sweet face on the front. I just couldn't stand that, so I turned the book upside down."
Meiland is very proud of his daughter. "Also because of the fact that she put something so horrific on paper. She just had a lot of bad luck, if you compare her situation with that of Montana (Meiland's eldest daughter, ed.)."
"I want this in black and white"
Maxime herself also looks at the book with a good feeling. "I did this anyway. Everyone knows it now, and everyone probably has an opinion about it. But I feel the need: I want this in black and white."
"I felt so alone. I hope that people who read it and experience or have experienced the same thing feel less alone because of this. Because if no one says anything, no one will know that you are not alone."
This is fully endorsed by her father Martien. "If even one person reports after reading Maxime's book, that is already a profit."
---
---