CENTRAL EUROPE LETTER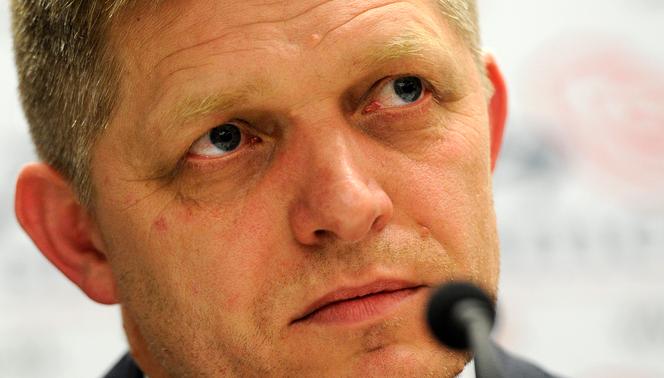 The leader of the Slovak party Smer-Social Democrat (Smer-SD), Robert Fico, at the headquarters of his party in Bratislava, March 6, 2016. SAMUEL KUBANI / AFP
In a campaign video posted in early March on social networks, the president of the Bulgarian Socialist Party (BSP), Korneliya Ninova, 54, grabs a biology textbook for 12-year-old students. She opens it "on page 155" and is indignant at what she reads there: "Sexual attraction generally targets representatives of the opposite sex. However, some find that they have a preference for people of their own sex or for people of both sexes. »
The president of this officially left-wing party implores: "Dear parents, let's stop gender ideology in schools. "Faced with what is a simple factual description of homosexuality, she then calls to vote for her party in the legislative elections organized on Sunday April 2 and to sign her referendum of popular initiative against "gender education", an initiative modeled almost word for word on the highly contested referendum with homophobic overtones organized in 2022, in Hungary, by Viktor Orban.
Another former communist country, another video, but an equally provocative speech from an officially left-wing man, too. On May 1, 2022, the leader of the Slovak Smer-Social-Democratic (Smer-SD) party, Robert Fico, 58, gathers his supporters for Labor Day in the city of Nitra, in the heart of Slovakia. At the microphone, its vice-president shouted the term "American whore" to the crowd several times, an insult addressed to the liberal and pro-European president of this small Central European country, Zuzana Caputova. Present behind his right arm, Mr. Fico then takes up this nauseating rhetoric by assuring that "the more a person is a whore, the more famous they become".
German soldiers compared to those "of the Wehrmacht"
In these countries of the European Union (EU) addicted to Facebook, the two videos have gone viral, because they symbolize the drift of these post-communist formations which officially remain members of the Party of European Socialists (PES), while in reality having in a nationalism tinged with conspiracy and pro-Russian messages. Initiated several years ago, this ideological shift has so far not provoked any real reaction from a PSE which nevertheless demanded in all tones that the conservatives of the European People's Party (EPP) exclude the Hungarian nationalist Prime Minister from their ranks for similar drifts – his party, Fidesz, ended up being pushed out in 2021.
You have 60.32% of this article left to read. The following is for subscribers only.
---
---