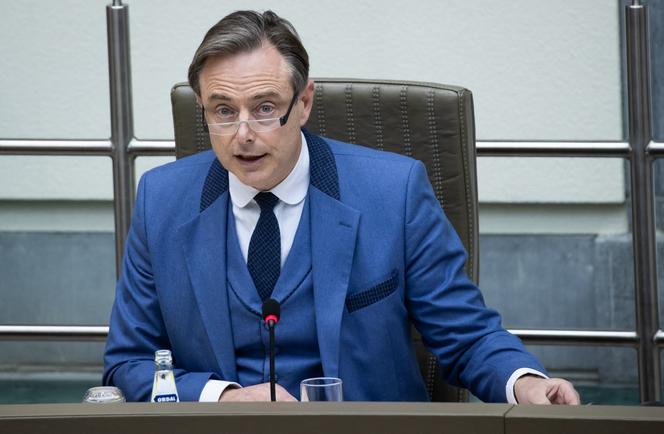 The mayor of Antwerp, Bart De Wever (here in Brussels, January 14, 2022), was one of the targets of those arrested. BENOIT DOPPAGNE / AFP
A series of operations carried out by the anti-terrorist section of the Belgian federal police led to the arrest, at the end of March, of eight people suspected of planning attacks, one of whom allegedly targeted Bart De Wever, mayor of Antwerp. and president of the Neo-Flemish Alliance (N-VA), the leading party in the Flemish region. Seven of the eight suspects have been imprisoned, they must appear Monday, April 3 before a court to rule on their continued detention.
Read also: Article reserved for our subscribers At the trial of the Brussels attacks, the heartbreaking testimony of the survivors
On March 27, the police searched various addresses in Antwerp, Brussels, Zaventem, in Flemish Brabant, and Eupen, in the east of the country. Two days later, the federal prosecutor's office mentioned, in a press release, operations intended to prevent "possible terrorist attacks".
Four people arrested in Antwerp – three Belgians, including a woman, in her twenties, and a 26-year-old man of Turkish nationality – have been charged with "participation in the activities of a terrorist group, attempted assassination in a terrorist context, preparation of a terrorist offense and dissemination of a message with the intention of inciting to commit a terrorist offence".
"S" files
In Brussels, two Belgians aged 19 and 23 and a Bulgarian aged 20 were arrested. They were all three indicted for terrorist activities, only the youngest being for preparation of a terrorist offence.
"Our services did not want to take risks and intervened as soon as there was a question of violent acts", commented the Minister of Justice, Vincent Van Quickenborne. He also said that the name of Mr. De Wever had appeared during the investigation carried out by the police, prior to the arrests. Four of the suspects were on "S" status and under surveillance.
Read also: Article reserved for our subscribers Belgium tries to arm itself against "narco-terror"
A spokesman for the federal prosecutor's office explained that the place and time of the attack which was to target the president of the N-VA were not fixed. Law enforcement reportedly swung into action when they picked up conversations indicating the suspects were looking for heavy weapons.
"We came close to the drama of a hair", estimated, on the LN24 channel, a deputy of the majority, Daniel Ducarme. The elected official sparked a controversy by accusing the Minister of the Interior, Annelies Verlinden, of inaction. The latter, in consultation with the Coordinating Body for Threat Analysis, decided not to raise the alert level in the country, now level 2, on a scale of 4.
You have 34.8% of this article left to read. The following is for subscribers only.
---
---