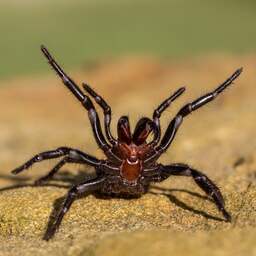 Female funnel spiders pretend to be dead when they want to mate with a male spider. This is how they want to put the male at ease. The female funnel spider is also able to eat her mating partner after the act, the researchers write in Current Zoology.
For the male funnel spider, reproduction is a risky business. Some species of female funnel spiders are known to kill and eat their bed partner after mating. So, to take away literal fears of death, the female spider pretends to be dead the moment she sees a spider she wants to mate with.
The female curls up her legs and remains still. This condition is also called catalepsy, in which breathing becomes quiet and consciousness decreases. The male funnel spider will then feel comfortable enough to go ahead.
During the scientific experiment with mating spiders, the researchers saw that mating only took place when the female pretended to be dead. According to the scientists, it is not the case that the males are really convinced that their mating partner is dead. When they are done, the male withdraws and the female revives.
Funnel spiders aren't the only animals that pretend to be dead when mating. However, it is not certain for every animal species what its function is. There are also theories that males paralyze their mating partners to prevent sexual cannibalism.
---
---