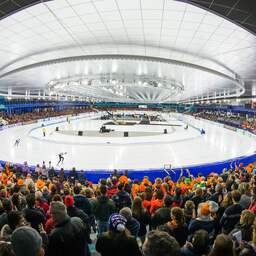 ---
Mar 28, 2023 at 9:36 PMUpdate: 5 minutes ago
Thialf has once again been saved from destruction. The ice stadium in Heerenveen will receive almost 2.5 million euros from the cabinet in the coming years to cope with the financial problems, writes sports minister Conny Helder in a letter to the House of Representatives on Tuesday.
Helder had previously promised 1 million euros, so that the stadium would not go bankrupt during the last skating season. Due to the increased energy prices as a result of the war in Ukraine, Thialf was faced with a substantial budget deficit. The ice stadium had to dig deep into its reserves to make up for the loss.
A similar season would mean the end of Thialf. That is why the management of the ice stadium again asked for government support. Helder initially wanted the province of Friesland and the municipality of Heerenveen to contribute more to a solution, but they declined.
Of the 2.5 million euros and the already promised 1 million euros, Thialf will purchase a so-called battery pack, with which the ice stadium can reduce energy costs to the old level of around 400,000 euros. That is 1 to 2 million euros less than the amount Thialf is now heading for.
"This allows top sport to continue in Thialf," says Helder. "Moreover, this contributes to the necessary sustainability of the sports sector. This allows knowledge and expertise to be gained about how large sports facilities that are also major energy consumers can become more sustainable."
Thialf has often struggled with major financial problems in recent years. Several Dutch top skaters already asked the cabinet for support in an urgent letter last year because their season would be in danger. Then the sports minister also tacked.
---
---