---
Mar 28, 2023 at 1:59 PMUpdate: 7 minutes ago
The track between Eindhoven and Den Bosch will reopen on Wednesday morning. Train traffic was blocked for days by badgers who had dug tunnels. The trains can therefore run again tomorrow according to the normal timetable. ProRail reports this on Tuesday.
The track between Boxtel and Den Bosch has been closed since Tuesday, March 21. A group of badgers had dug so many tunnels in the ground under the track that it became unsafe to run trains over them. Train traffic between Eindhoven and Den Bosch was therefore halted.
Over the past few days, track manager ProRail has been working on solving the problems. The holes have been closed and temporary mesh will be installed to prevent the badgers from returning. It also became clear that part of the tunnels were dug by beavers. Remarkably, no badgers or beavers were encountered during the repair work.
A few trains can already run on the route on Tuesday evening, but this only concerns freight trains. Passenger traffic can be resumed from five o'clock on Wednesday morning.
It is a stroke of luck that the track can open again on Wednesday. Initially, ProRail thought it would take weeks before trains could run on this route again. But in the end it took a little over a week. In the meantime, buses have been deployed and some of the trains have been diverted.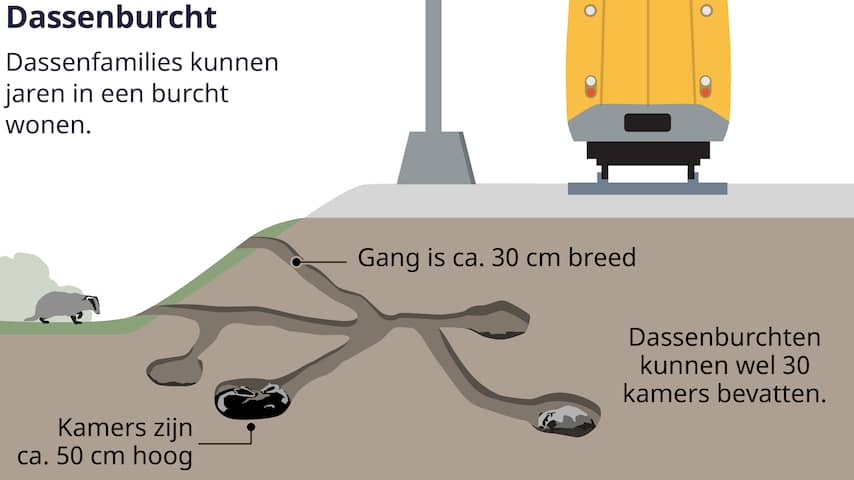 Photo: Bart-Jan Dekker
---
---