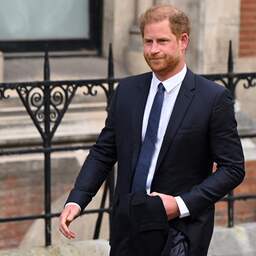 The British Royal Family has withheld information from Prince Harry. The British prince claimed this in the court of London on Tuesday, where he and several other well-known Britons are facing publisher Associated Newspapers.
Together with, among others, singer Elton John and actress Elizabeth Hurley, Harry has filed the case. The three allege that the creator of the tabloids The Mail on Sunday and Daily Mail has violated their privacy by tapping their phones, among other things.
In a statement, the Duke of Sussex writes that he was "told" to accept his family's rules and "never complain" about dealing with the press. "There is no doubt that the institution (the family) withheld information from me about the hacking of my phone for a long time."
In 2018, Harry says he only found out that he might have a case with tapping the phone. "That has only become clear in recent years," said Harry.
Law firm Hamlins claims Associated Newspapers employees also installed eavesdropping devices in cars and homes. An Associated Newspapers spokesperson called the allegations "ridiculous" and spoke of "baseless and highly defamatory allegations, which are not based on credible evidence".
---
---