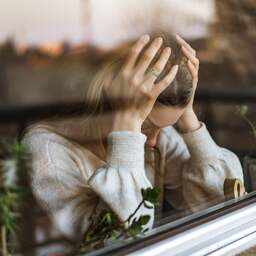 ---
Mar 27, 2023 at 11:11 PMUpdate: 7 minutes ago
The umbrella organization GGD GHOR Netherlands is concerned about the mental health of young people. A health monitor showed that many of them experience minor psychological complaints such as anxiety and feelings of depression.
Nearly 70,000 young adults completed a questionnaire from April through August 2022. This group included many women and young adults in urban areas. It may also be that people who feel worse were more inclined to participate in this study. The results are therefore not representative of all young people.
More than half of the people who completed the questionnaire indicated that they had experienced psychological complaints. In most cases, these were minor complaints.
Many of the participants reported feeling lonely. According to GGD GHOR, this concerns two thirds of those who completed the questionnaire. A quarter of them said they felt "very lonely".
"We are concerned about the mental health of young adults. It is good that we now know what the biggest problems are and which group suffers from this. But the results of this study show that more action is really necessary," says GGD GHOR- director Ton Coenen.
Based on this research, the umbrella organization cannot say to what extent the psychological complaints were caused by the corona period. But according to the agency, it "definitely had an impact".
Are you thinking of suicide? You are not alone. Contact 113 Suicide Prevention via www.113.nl or call 113 (local rate) or 0800-0113 (free).
---
---