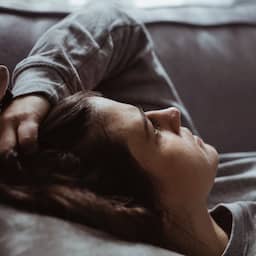 Stress, loneliness and suicidal thoughts: study after study pinpoints the fragile mental health of young adults. But although it is good that it receives regular attention, we should not be blinded by new statistics, say experts.
Take a study published Monday evening by the GGD. More than half of the 16 to 25 year olds in the Netherlands would experience psychological complaints. Many of them even struggle with suicidal thoughts. "We are concerned about the mental health of young adults. And it is good that we now know what the biggest problems are," said director Ton Coenen of GGD GHOR Netherlands.
The researchers come to these firm conclusions after answers from almost 70,000 young adults from all over the Netherlands. Reliable, you would say. "But a major shortcoming – which the GGD itself points out – is that people who feel worse were more likely to participate," says Casper Albers, professor of Applied Statistics at the University of Groningen.
And that raises questions about the conclusions presented: if people who approach the subject answer negatively, you will probably get more negative answers. "It will be interesting if you can compare the percentage with results from a few years earlier," continues Albers.
Other things that often go wrong in population studies are guiding questions and too small a field of participants. Albers: "The second is not the case here, but I have not seen the questionnaire. I do suspect that the GGD and the RIVM, two professional organizations, have done this as well as possible."
---
The sounding of the alarm could also have happened last month or next month.
Gz psychologists Bjarne Timonen and Gijs Coppens
---
He does find one of the conclusions, about the number of lonely young adults, debatable. "They feel lonely more often. That is not new; it suits that phase of life. But it is not directly a psychological disorder: it is only when it is structural and persists for a long time."
Healthcare psychologists Bjarne Timonen and Gijs Coppens recognize that young adults have been feeling lonely for some time. "Experiencing mental complaints when you are young is not necessarily wrong," Coppens kicks off. "You are constantly on the move. You leave your home and family in which you grew up, go to study or work, fall in love. In other words: you are looking for your position in society. So much happens in five to ten years' time that it is not wrong to experience stress."
These are common psychological complaints of young adults:
HopelessnessGrowness or depressionWorryingInsomniaLonelinessFeeling a failure to suicidal thoughts
Most mental complaints in young adults for many years
Coppens therefore sees that relatively young adults have the most complaints. "Many studies show that this group has twice as many psychological complaints as other age groups. This concerns about four in ten young adults compared to two in ten in the rest of the population."
Both Timonen and Coppens cannot say whether the results mentioned by the GGD are more worrying than before. "The measuring tools are getting better and better, but these problems have always existed. We don't know if it used to be this bad," both say. The duo do suspect that the number of mental complaints has increased in recent years, because society is asking more and more of young adults.
Timonen notices that more and more stress and depression complaints are coming up in his clinic. "Young adults make too many demands on their image, study, work. They have to uphold three lives (private, digital and professional). That burns young people."
The corona pandemic had a major impact on young people's mental health
The psychologists, like the GGDs, also point to the corona pandemic. "It had a huge impact on young adults. The policy was aimed at limiting social contacts, on which they depend," explains Timonen.
Coppens has seen a sharp increase in the number of requests for help since the lockdowns on his platform OpenUp, a care platform for psychologists. "But young adults have been reporting to us more and more for years. We just cannot compare that with decades ago."
The percentages mentioned by the GGD are in any case no surprise to psychologists. "We have been measuring these problems for several years now. The alarm could have been sounded last month or next month. But it is very good that we continue to pay attention to this and keep it on the agenda, to support young people ."
Are you thinking of suicide? You are not alone. Contact 113 Suicide Prevention via www.113.nl or call 113 (local rate) or 0800-0113 (free).
---
---