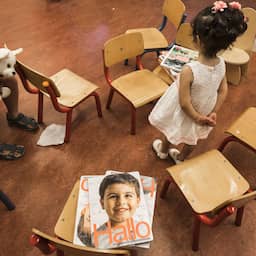 ---
Mar 28, 2023 at 06:34Update: 8 minutes ago
The pointless movements of children in asylum centers must end, according to experts who work in youth health care and education. In a letter to State Secretary Eric van der Burg (Justice), they ask for "stable, child-friendly and safe care for children".
Some minors who apply for asylum in the Netherlands with or without their parents have to move several times during the procedure. If the children have to go to a new reception location, this often means that they will receive education in a different location.
That dragging causes "unnecessary developmental damage and psychosocial problems", according to representatives of paediatricians, youth nurses, the education of newcomers, the PO Council and VO Council. They say they have seen the negative consequences of the movements "every day for years", which they believe are avoidable.
According to the letter writers, the children have already been influenced by what they have experienced in the country they fled from or during their flight to the Netherlands. The asylum procedure also leads to uncertainty. The relocations in the Netherlands are on top of this and as a result the development of the children can come to a standstill. Sometimes there is even a decline. According to the experts, the risk of insomnia, anxiety and depression in children increases with every move.
Pediatrician Petra de Jong even sees children "who actually have no life left". They have lost confidence in people and no longer want to make new friendships, because they fear a new farewell.
Children must remain in one location during procedure
The trips not only have a negative effect on the development of the children, but according to the experts, they also lead to a waste of money and working hours.
"It's just all very ineffective, building up and transferring care and investing again and again in getting to know and saying goodbye to a child," say the letter writers. Therefore, the children and their parents should be able to remain in one location throughout the procedure.
The call follows several signals of problems surrounding the reception of minor refugees. For example, municipalities, psychologists, other experts and the education inspectorate warned in March that children's rights are under serious pressure in Dutch reception centres.
The House of Representatives will debate the subject later this week.
---
---