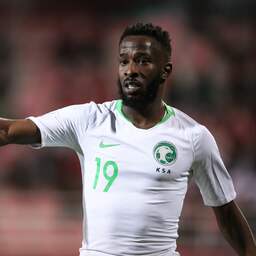 ---
March 27, 2023 at 11:11 am
Al Shabab striker Fahad Al Muwallad from Saudi Arabia will be allowed to play football again in August. The club reached an agreement with the world anti-doping agency WADA on Monday about his suspension.
The suspension cost Al Muwallad, one of the top players in the Arab league, his place in the Saudi World Cup selection, among other things.
The national anti-doping agency SAADC suspended the attacker in May last year because he tested positive for the banned substance furosemide. The suspension was lifted in August, because the 28-year-old player would have been sufficiently punished.
That seemed to clear the way for World Cup participation, but WADA went to sports tribunal CAS to challenge the decision. Because that case was still pending, Al Muwallad was left out of the World Cup selection in November.
The Saudi anti-doping agency now reports that it has reached an agreement with WADA, which is withdrawing the appeal. Al Muwallad will serve his original one and a half year suspension. It runs from February 2022, the moment he was caught.
This makes the 73-time international (17 goals) eligible to play again in August.
---
---