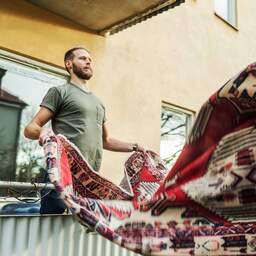 ---
March 26, 2023 at 05:03
This winter we did our best to keep the heat inside: windows and doors tightly closed, candle lit and cocooned. And that makes our house dirty and unhealthy. Now the sun is shining through the filthy windows and it's time for spring cleaning. How do you proceed?
1. Open things up after cooking, smoking and firing
Watering eyes, coughing, stuffy noses, frequent colds: our indoor climate affects our health. The corona years have taught us that ventilation is important. Nevertheless, we like to keep the doors and windows closed in the winter. Especially with higher energy costs than ever before.
This can cause too much particulate matter, moisture and therefore mold in the house. They can cause health problems.
So please open the windows and doors again now that spring is slowly breaking through, says Michael Rutgers of the Longfonds. "If you only remember one rule, let it be this: ventilate after cooking, smoking and firing."
---
Aggressive agents stimulate the lungs, although it may smell nice and fresh to you.
Michael Rutgers, Long Fund
---
"So open the windows or outside doors completely, for at least half an hour. By smoking we mean cigarettes, but also burning candles. This is also necessary for people with healthy lungs to prevent health problems from developing."
Something that sticks in the oven, stir-frying on a high heat: the particulate matter meter immediately turns red, Rutgers knows.
2. Do not use aggressive cleaning agents
Cleaning expert Diet Groothuis recently wrote The green cleaning book and immediately stormed the bestseller list. A sign on the wall that we would like to get started, she thinks.
Groothuis champions green soap, soda and cleaning vinegar. These three classics make our homes fresh without unnecessarily burdening the environment. And without causing or aggravating health problems, which aggressive agents such as chlorine do.
"We don't live in seriously polluted industrial buildings, so why would you use the most aggressive agents?", says Groothuis. "In the supermarket, get on your knees and grab the soda, vinegar and green soap. The mess is at eye level."
---
Every time you flush, faecal and urine residues fly around again.
Diet Groothuis, cleaning expert
---
"Forget chlorine. It disinfects, but does not clean at all. Remember that every cleaning agent must first do its job and absorb. You are not done any faster by immediately throwing the strongest stuff everywhere."
And aggressive means have other disadvantages, says Rutgers of the Longfonds. You often think you've worked well with a splash of bleach or ammonia, but that can immediately hit your lungs.
"The house smells clean, but your child with asthma who then comes home can immediately have an asthma attack. Aggressive means stimulate the lungs, although it may smell nice and fresh to you."
3. Start with the toilet
Your house is big and there is a lot to do. This is how courage sinks in your shoes with a company such as spring cleaning, thinks Groothuis.
"Just start with the toilet. It's a small room, you'll be done in no time. Make some soapy water and clean everything thoroughly: the bottom of the bowl, the taps, the cistern, under the bowl, the floor, the light switches : everything."
"You probably already do that every week, but every time you flush faeces and urine residues fly around again. Therefore, continue with the lid on. If you have caked deposits in the pot, throw some cleaning vinegar in the pot and let it soak in for a few hours."
4. Tackle dust bunnies
Dust irritates your lungs. And in the winter we kept our sometimes well-insulated homes closed. Pillows, blankets, and carpets are full of dust and you won't find them in families with asthma. That is 10 to 12 percent of families, Rutgers knows.
It is now a good idea to tackle your furniture, curtains and mattresses. But it is also an overwhelming job, says Groothuis. Hang your curtains outside to freshen up first, or toss them in the washing machine if you're sure they won't shrink.
Groothuis: "When I change my bed, I throw soda on the mattress. I let it soak in and then suck it up again with the vacuum cleaner. That way you get rid of a lot of dirt."
5. Divide the spring cleaning over a few days
Start with what bothers you; the windows for example. Groothuis: "Those dirty windows really look at you now with the sun shining in. Use microfiber cloths or the old-fashioned chamois and sponge and tackle them with cleaning vinegar. It is a job that immediately gives you courage to continue ."
Also a neat little job: the kitchen cabinets or drawers. Just grab one at a time, Groothuis advises. "Take everything out, throw away what has expired, soak them well with green soap and dry them again. Then re-arrange your cupboard."
"I write the best-before date on the packaging and put it at the front, so you don't have to throw away food. You keep it fun with a small job every time. You don't do a whole weekend of cleaning. You postpone it or distract yourself. Put on some cleaning music and you'll be done in no time."
---
---