Scalda student Miko de Meijer from Terneuzen is still in disbelief since he received the message a week ago that his 3D animation is good for the top prize of 20,000 dollars in a design competition of the American space agency Nasa.
This article is from PZC. Every day a selection of the best articles from the newspapers and magazines appears on NU.nl. You can read more about that here.
It is good to note that Miko de Meijer usually communicates mainly in English. Of course not at home with father Jacques and mother Anouschka, but with his online friends from his 'mancave' upstairs. The nineteen-year-old software development student at Scalda peppers his sentences with words such as launcher, rocket and spaceship.
It is of course no coincidence that these words all have to do with space travel. Last week, Miko won the first prize in a design competition of the world-famous American space agency Nasa. Twenty thousand dollars. To be divided between him and Ross Daryl Palatan, a Filipino aerospace engineering student with whom he forms a successful duo. They previously finished third twice in a NASA competition.
Recycle oxygen
'It's not rocket science' they sometimes say in good Dutch to make it clear that something is quite simple. What Miko is talking about is definitely rocket science. It is therefore quite a challenge for a simple reporter not to lose track when the young Terneuze resident talks about the assignment of the competition that won them the main prize. Here's the bottom line: Palatan designed a device that can recycle oxygen aboard a starship. Miko translated that into a 3D animation, his specialty.
"We got in touch via Twitter, where I post my animations. A few years ago he first messaged me asking if I wanted to make an animation for Nasa. That must be very complicated and technical, I thought I. But I wanted to try. The assignment then was to come up with a solution for the garbage in spaceships. We made a launcher to shoot the garbage away. He sends me videos explaining exactly how he wants to be design will look."
Upstairs, Miko shows his mancave. The place where he makes his animations, where he plays games and also makes his own games. The latter is actually his great passion. If Miko has to name a dot on his promising horizon, it would be a job as a game developer at one of the major American game companies.
Addiction
How does he avoid spending all his time behind his screens or wearing his VR glasses outside of school? "I'm here a lot. But I also just have friends from school that I go to the cafe with and stuff. There was a time when I really played a lot, but that's over. I've changed a bit. I've become more social. A few years ago I would have only given one-word answers." Father Jacques: "We were a bit worried. But when we went upstairs and saw that he also programs, we didn't think it was such a problem. He only develops with that."
Moment supreme
Miko was sitting among his classmates at the Scalda when he received a message from his Filipino partner on his phone during the last hour last Friday. 'Check your mail', was the urgent advice. "But I hadn't received anything yet. I hadn't realized at all that it was the day the winners were announced. I kept refreshing my email. Would we have finished third again or maybe even second?, I thought. When the email When I finally came in and saw You are the winners, I was in disbelief. And I still am."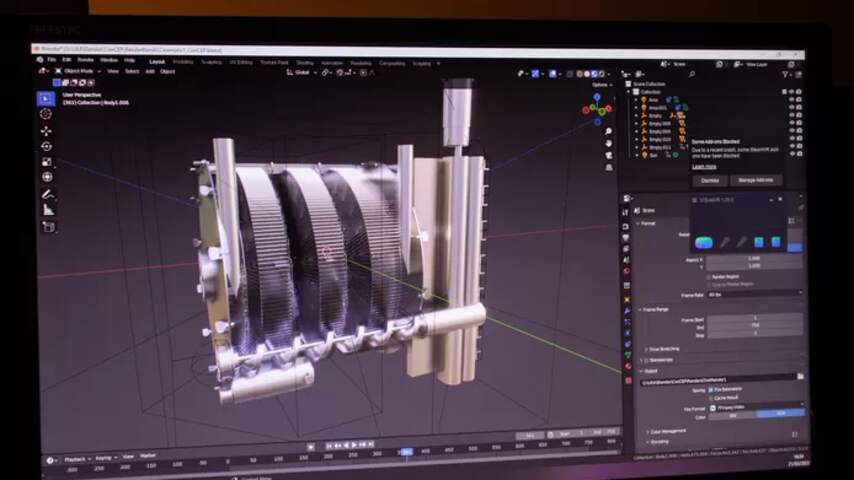 An image of the 3D animation designed by Miko de Meijer. The inside of a device that purifies air in a spaceship. Photo: Anne Hana
---
---