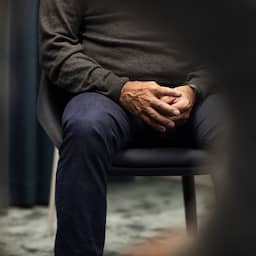 By our news editor
---
Mar 26, 2023 at 5:13 PMUpdate: 27 minutes ago
This weekend NU.nl wrote that eating disorders in men are often overlooked. But that also applies to less well-known eating disorders, for example because they receive too little media attention. That is why we have listed the different eating disorders.
An eating disorder can manifest itself in many different ways. By eating too little, too much or very selectively. Eating disorders can also overlap. What they do have in common is that mental problems, such as trauma or depression, are often the cause. This is written by the Dutch Patient Association for Eating Disorders (WEET).
Anorexia nervosa
Anorexia is one of the most well-known eating disorders. People with anorexia nervosa avoid eating, eat very little or only small portions of certain foods. They are afraid of gaining weight and have a distorted body image. For example, someone with anorexia nervosa may be dangerously underweight, but not experience it as such.
The US National Institute of Mental Health distinguishes between two types of anorexia nervosa:
It restrictive kind, in which people severely restrict the amount and type of food they eat. Binge-purge, with people also severely restricting the amount and type of food they eat. In addition, someone can also have binge eating. Then someone eats a lot in a short time. This is followed by vomiting or taking laxatives to get the food out of the body quickly.
Anorexia nervosa can be deadly. People with this eating disorder have an increased risk of medical problems. Suicide is the second most common cause of death for people with anorexia nervosa.
Bulimia nervosa
People with bulimia nervosa binge eat and often feel out of control. Subsequently, the binge eating is compensated by, for example, vomiting, using laxatives, exercising excessively, or a combination thereof.
Similar to anorexia nervosa, people with bulimia nervosa have a distorted body image. They can be underweight, normal weight or overweight. As a result, the eating disorder is not always visible.
Binge eating disorder (or binge eating disorder)
This is a bit like bulimia nervosa in that people with this eating disorder also suffer from binge eating. They eat a lot of food in a short time. They have no control over this and may feel shame, weakness or self-blame. People with binge eating disorder do not compensate for this. As a result, they are often overweight.
Other Specified Feeding or Eating Disorder (NOS/OSFED)
Someone with NAO/OSFED ('Not Otherwise Described' https://www.nu.nl/"Other Specified Feeding or Eating Disorder") has overlapping symptoms of anorexia nervosa, bulimia nervosa and/or a binge eating disorder. This is the most commonly diagnosed eating disorder. This shows how diverse an eating disorder can be, according to WEET.
Avoidant restrictive food intake disorder (ARFID)
People with ARFID eat too little or very selectively and avoid certain types of food. As a result, they can or dare to eat only a small number of products. For example, because they once choked very badly and are therefore afraid to eat new products. For people with an autism spectrum disorder, AD(H)D, high sensitivity or giftedness, the structure, smell or taste of certain products may not be pleasant. And it may also be that people with ARFID do not feel hungry.
Someone with ARFID is not obsessed with weight or losing weight and does not have a distorted body image. But because someone eats too selectively, the chance of being underweight is high.
Pica
Pica is an eating disorder that revolves around eating inedible things, such as soil, paper, paint chips and hair. This can cause serious physical complaints. People with pica also eat normal food and are not concerned with losing weight. Pica occurs in people of all ages, but most often in children. In many cases, people with pica also have another mental disorder or intellectual disability.
Rumination disorder
A person with rumination disorder regularly lets the food in the stomach come up into the mouth to chew the cud. It mainly occurs in children, but adults can also have this eating disorder.
Eating disorders not included in the DSM
The DSM is an internationally renowned handbook for psychologists and psychiatrists. This includes the above eating disorders. But there are also some eating disorders that are not (yet) listed here. For example, because little is known about it.
Bee orthorexia nervosa is someone obsessed with healthy eating. It is not about losing weight, but about being as healthy as possible. Bee bigorexia nervosa is someone very busy building muscle mass. This stems from a distorted body image. Men in particular have this disorder. Someone with it night eating syndrome (NES) eat only in the evening or night. That can cause sleeping problems. A person with NES does eat normal amounts and at a normal pace.
Are you thinking of suicide? You are not alone. Contact 113 Suicide Prevention via www.113.nl or call 113 (local rate) or 0800-0113 (free).
---
---