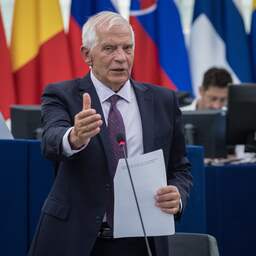 The European Union is prepared to impose new sanctions on Belarus if Russian nuclear weapons are placed there, foreign chief Josep Borrell said on Twitter on Sunday. According to him, the EU is ready "to respond with further sanctions".
On Saturday it was announced that Moscow will station tactical nuclear weapons in Belarus. That decision came after Russian President Vladimir Putin and his Belarusian counterpart Alexander Lukashenko agreed.
Belarus already has ten Russian bombers capable of firing tactical nuclear weapons. The country is an ally of Russia.
In February last year, part of the Russian troops entered Ukraine through Belarus. The EU has already imposed sanctions on Belarus several times. This included the banning of virtually all trucks from Belarus. It is not yet known what the possible new sanctions will be.
---
---