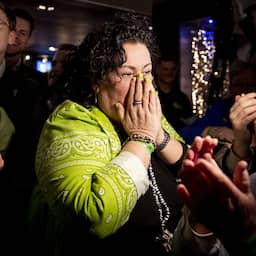 Every day you can read what people think of the news of the day. Today: this is what you say on our response platform NUjij about the cabinet that is still struggling after the Provincial Council elections with what the result means for cabinet policy.
Chiquitita72 user says:
"I think it would be a good idea if the coalition parties would indeed take a good look at why there is so much dissatisfaction and not just assume that all those votes against are just the result of the nitrogen policy."
"I myself voted for one of the other parties and have a laundry list of subjects that I am very dissatisfied with (the housing shortage, the role of health insurers, the benefits affair and its handling, the earthquake damage in Groningen and its handling, migration policy , erosion of public transport and the shortages in care, youth care and schools). I am also dissatisfied with all other areas where market forces have caused a decline. And I could go on and on."
"In short, there were reasons to want a different government, but the nitrogen approach is precisely the one point in which I do support them."
"According to Hoekstra, there is a huge gap between The Hague and the province. Does he mean the travel time? It is the same. Whether you have to go from Groningen to The Hague or from The Hague to Groningen. Or Enschede or Sittard. To close the gap MPs should go into the province more often to see what is going on. Talk to the population on the street. Get out of that room."
"According to Rutte, we are a country where we work together and listen to each other. But then you have to remember what has been said. And do something with it. Otherwise you write it down. And Rutte also applies, go into the country more often. That doesn't have to be on a bike with an apple in hand, but just take a walk through a city or village in the province. That immediately narrows the gap."
User Ilona_Dekker_becaaf says:
"In principle, everything is in a hurry according to the coalition. The pension law must be passed quickly. Now last night I saw Eric van der Burg who also wants to 'coat' the distribution law. D66 wants to take the time to evaluate. In plain Dutch: we just stay in power and we know what's good for you. Crisis after crisis and nothing will be solved at all. A few more weeks and the weather will be nice again. I can see the headlines about TerApel again."
"Even when farmers can be bought out and expropriated, it will still take years before homes are built. I live in Nieuwegein and the cheapest new-build apartment of 70 m2 costs almost 4 tons. Single-family homes from 4.5 tons. The current coalition with PvdA and GL hopes that the green flag (BBB) ​​blows over, but it is not just nitrogen or CO2 there is much more going on That is no longer a gap, but a large part of the Dutch feel that they are being pushed into a ravine without being there influence."
User Jex_Phoenix says:
"It is in the interest of all parties and this country that the focus is now on scientific correctness or inaccuracy regarding the need for nitrogen reduction."
"The consequences of this political landslide can only have meaning once there is no further discussion about it. The only thing that matters now is that people look even more closely at the extent to which farmers do or do not largely contribute to the problem of nitrogen and how important the 2030 date is now real."
"If new data from experts and a lot of discussion about it show that the plans as they are now are really necessary to prevent further decline of biodiversity and BBB does not cooperate, then the Dutch will soon realize that their protest vote is not so A good choice was and will probably lose BBB big in the next elections. Anyway, nature and our biodiversity are really more important than any farm!"
Would you also like to shine your light on this subject? Then click here. The comments above are displayed as posted by users. The editors of NU.nl are not responsible for any language errors.
Did you find this article via Net In? You can find similar documents every day via the NUjij button at the bottom of your app.
---
---