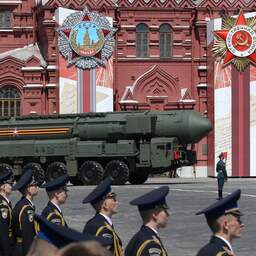 ---
Mar 25, 2023 at 7:10 PMUpdate: 3 minutes ago
Russia has signed a deal with loyal ally Belarus to station tactical nuclear weapons there. This was announced by Russian President Vladimir Putin on Saturday evening. Belarus borders both Russia and Ukraine and supports the Russian invasion of Ukraine.
According to Putin, Russia does not violate the nuclear non-proliferation treaty because the United States has also stationed nuclear weapons with European allies.
Russia is currently building a nuclear weapons storage facility in Belarus. It must be ready by 1 July 2023 and then the nuclear weapons can be moved. Control of the nuclear weapons will remain in the hands of Putin and will not be transferred to Belarus, the president emphasizes.
There are already ten aircraft stationed in Belarus that can carry the tactical nuclear weapons. A number of Iskander missile systems have also already been transferred with which the nuclear weapons can be fired. At the start of the Russian invasion in February last year, part of the troops entered Ukraine via Belarus.
Tactical nuclear weapons have been developed specifically for use on the battlefield and are much smaller than a classic nuclear bomb. But they can wreak far more havoc than conventional weapons.
Russia has the largest number of nuclear weapons in the world: nearly 6,000 in 2022. The United States has more than 5,400. About 1,500 of Russia's nuclear warheads are intact but no longer active. Nearly 2,900 are reserve and nearly 1,590 are active warheads.
IAEA boss to Zaporizhzhia nuclear power plant
It was also announced on Saturday that Director-General Rafael Mariano Grossi of the International Atomic Energy Agency (IAEA) will travel next week to the occupied nuclear power plant in the Ukrainian region of Zaporizhzhia. Grossi will go to the Enerhodar plant to assess the safety situation and what has changed since the last visit in September, the IAEA reports.
Since that previous visit, experts from the UN nuclear watchdog have been permanently on the site of Europe's largest nuclear power plant. They are alternated every so often. Grossi brings a new team of experts with him.
The nuclear power plant was taken by Russian troops at the beginning of the war. Occasional shelling takes place in the area, which causes problems for the power station. At the beginning of March, all external power supply failed for the sixth time, while it is needed for cooling the reactors. The IAEA has been calling for a safety zone around the nuclear complex for some time.
---
---