---
Mar 25, 2023 at 3:23 PMUpdate: 13 minutes ago
The Royal Netherlands Marechaussee arrested 104 Extinction Rebellion activists at Eindhoven airport on Saturday. They had forced their way into a parking lot of private jets and refused to leave.
Hundreds of climate activists from Extinction Rebellion had come to the demonstration on Saturday. A large group clipped a fence and forced their way into the parking lot of private jets.
The Marechaussee gave the group the opportunity to leave voluntarily from 2 p.m., but dozens of activists refused. Shortly after 3 p.m., the Marechaussee and police began to take the demonstrators to a detention center. This happened in vans of the Royal Netherlands Marechaussee and several tour buses. An hour later, all activists had been removed from the site. The activists were arrested for trespassing.
According to Extinction Rebellion, some three to five hundred Protestants took part in the protest that started Saturday morning. The activist group wants an end to noise nuisance, health damage and pollution for residents living near the airport.
Unfortunately, this content cannot be displayed. We do not have permission for the necessary cookies. Accept the cookies to view this content.
Change cookie settings
Extinction Rebellion wants fewer flights from Eindhoven
Extinction Rebellion also wants fewer flights from Eindhoven. With many banners, flags and singing, the group drew attention to this. A children's corner was also arranged.
A little after noon, several hundred climate activists entered a fenced area of ​​Eindhoven Airport. The group was stopped by the Marechaussee and the police. They did not want the activists to go further and enter the runway. Extinction Rebellion indicated that that was not the intention. The group sat down and some eventually refused to leave.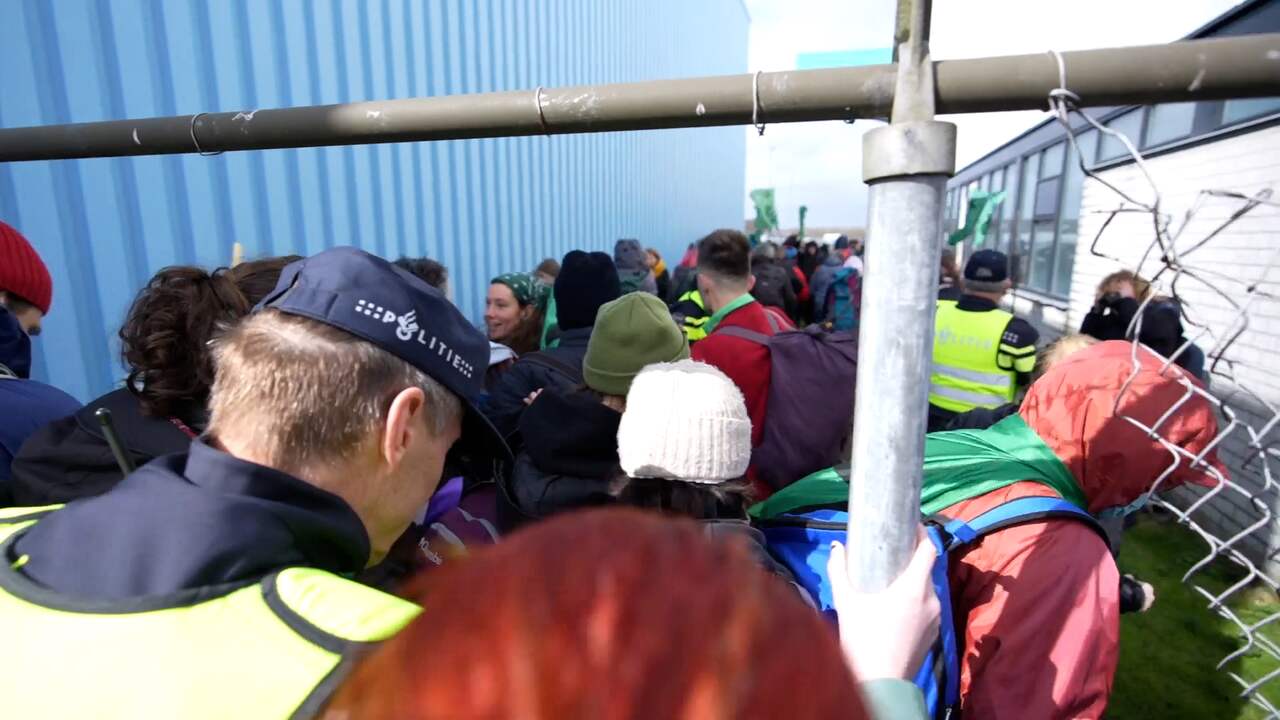 0:47 Play button
Scientists Rebellion blocks entrance to private jets in Eindhoven
Not only Extinction Rebellion was active at Eindhoven Airport on Saturday. About twenty scientists and academics from climate group Scientist Rebellion temporarily blocked the entrance to the terminal for private jets with bicycles on Saturday.
"By actively welcoming private flights, Eindhoven Airport contributes to the increasing climate injustice," says spokesperson Harald Buijtendijk. "A private jet emits ten times more greenhouse gases than a normal airliner. Eindhoven Airport should therefore no longer allow private flights from now on."
Scientist Rebellion is an international movement of scientists concerned about the climate.
---
---