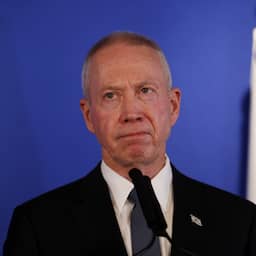 ---
Mar 25, 2023 at 8:03 PMUpdate: 2 hours ago
Israeli Defense Minister Yoav Gallant believes that the controversial legal reforms should not go ahead. The government's plans create a division that threatens Israel's security, the politician said in a televised address. Thousands of people have been protesting against the legal reforms every week for months.
The reforms give the Supreme Court less power and the parliament more. Critics see this as a threat to the separation of powers. But Prime Minister Benjamin Netanyahu argues that it will restore the balance.
Protests against the plans have been going on for three months. For example, an estimated 200,000 demonstrators gathered in Tel Aviv on Saturday, Israeli media report.
Gallant had planned to speak out against the controversial plans on Thursday, according to Israeli media, but then Netanyahu called the minister to him. Gallant then remained silent, while Netanyahu declared on television that the government is determined to continue with the reforms and that he would do his best to bring about peace and unity.
Share reforms already implemented
On Thursday, the Israeli parliament already adopted part of the legal reforms. The new law makes it more difficult to impeach a prime minister. According to the opposition, this suits Netanyahu very well, because he has had a long-standing corruption trial. He would like to protect his own position in this way.
After the plans have been introduced, a prime minister can only be impeached on the basis of physical or psychological "incapacity". Three quarters of parliamentarians or three quarters of cabinet members must decide to do so. It is therefore ruled out that the Supreme Court or the Public Prosecution Service plays a role in an impeachment. Opponents of Netanyahu hope that the Supreme Court can still prevent implementation.
The current government, the most right-wing in Israel's history, took office at the end of December. Netanyahu then returned as prime minister after a year and a half in the opposition. His Likud party had won the November elections, even though Netanyahu was then prosecuted for corruption. It was the fifth election in four years due to Israel's divided political landscape.
---
---