More and more art and flying is needed to keep forensic medicine afloat in the eastern Netherlands. Municipal health services have to make painful choices, are increasingly forced to come to each other's aid and have part of the work carried out by medical doctors and nurses. How long will that go well?
This article is from the Stentor. Every day a selection of the best articles from the newspapers and magazines appears on NU.nl. You can read more about that here.
Forensic medicine is an often invisible and crucial profession that is carried out on behalf of municipalities, the police and the Public Prosecution Service. Forensic doctors are called in, among other things, if there is a case of an unnatural death or a suspicion thereof.
This can be murder or manslaughter, but also a traffic accident or euthanasia. They then provide an objective medical opinion on actual causes of death and injuries of victims. In addition, they are of great importance in sex cases and questions about the state of health of suspects and perpetrators, for example.
Close holes
GGDs are suffering from a shortage of forensic doctors. Despite urgent letters and cries for extra money, too little is improving, says GGD North and East Gelderland. "The critical limit has been reached," says spokesperson Jessica van den Bergh. "Speed ​​and quality of service are under pressure. The development of the forensic medicine profession has come to a standstill and forensic doctors continue to close the gaps, which ultimately affects all Dutch people."
North and East Gelderland is the largest GGD region in the Netherlands in terms of area. This makes the national shortage of doctors even more palpable: the size demands that two doctors are constantly available here at the same time.
Impossible Dilemmas
According to Van den Bergh, forensic doctors are faced with impossible dilemmas every day. "Because they cannot be in two places at the same time, but increasingly have to: to inspect a body after a suicide, after a possible crime or after euthanasia. Or to investigate victims of child abuse, sex crimes or violent crimes, so that evidence is not lost. Or to provide necessary care to detainees and to advise the police."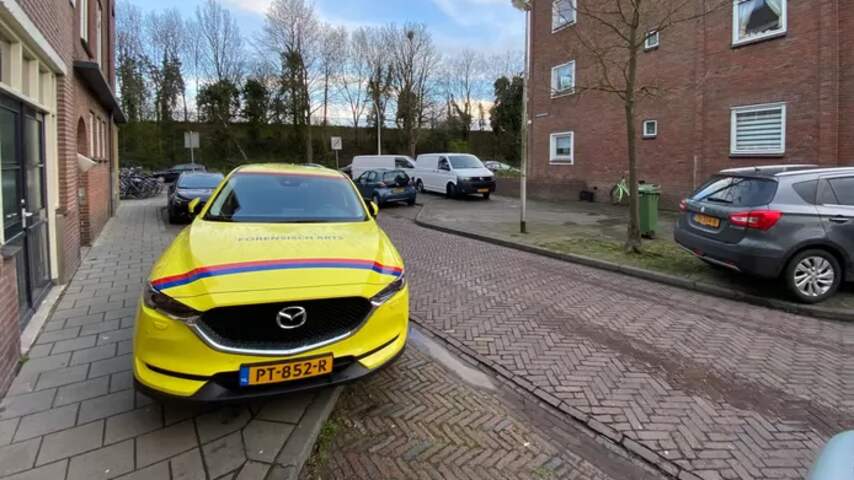 A forensic doctor visits the apartment of a deceased man. Photo: Rens Hulman
With creative solutions it more or less manages to survive. For example, GGDs in the East Netherlands are deploying medical doctors and more nurses for tasks that do not necessarily have to be performed by a forensic doctor.
Alcohol and Substances
This happens, for example, in the care of detainees. But also for taking blood from drivers if the police suspect alcohol or substance use. "Because such tasks are performed by nurses and no longer by the doctor on duty, it is possible that the doctor serves in a larger area of ​​work," Van den Bergh outlines daily practice.
To keep the care going, the five GGDs in the eastern Netherlands have joined forces. The doctors assist in the other regions if possible.
Invest and educate
They are patchwork. Structural extra money is needed, at least 20 million euros per year, according to all GGDs. "So that we can invest in the education of forensic doctors and nurses in the Netherlands, in full-fledged and attractive jobs, and in opportunities for these professionals to continue to practice their profession at a high-quality level," says Karla Spoolder-Kuiperij of GGD. Iceland.
'Very undesirable situation'
GGD Twente has been close to code black a few times. That means there is no forensic doctor available. The police in the east of the Netherlands speak of a 'very undesirable situation'.
"These are serious and sensitive matters," says a spokesman. "More and more often we notice that it takes hours before a medical examiner can come. This means that the victims' families and police officers have to wait a long time in such a case. This leads to frustration and dissatisfaction for them."
According to Van den Bergh (GGD North and East Gelderland), forensic medicine is a crucial profession for strong public health. "It contributes to a pure rule of law. When the government does not invest enough, this has negative consequences for the health and safety of all of us. Conducting independent forensic medical research and advice for fair decisions is at stake."
Painful
It is possible that a doctor is no longer always immediately available in every region 24/7. Then acute cases are given priority, such as investigations into child abuse and sex crimes. "This does mean that the pain is felt first during activities where there is room for postponement or planning," says Van den Bergh. "As painful as that often is."
Spoolder-Kuiperij (GGD IJsselland) cites as an example that a GP has to postpone a planned euthanasia for a few hours. "Fortunately, we have not had this situation in IJsselland. But nationally, forensic medicine has reached its critical limit."
Roosters
Flevoland is also working intensively with other GGDs to complete the occupation. According to spokesman Sven van der Burg, this is happening with Gooi & Vechtstreek and Utrecht. Together they have set up the Central Netherlands forensic team, which is in line with the Central Netherlands police region. As of 1 January, these agreements have been confirmed in a cooperation agreement.
According to the GGDs, it is mainly thanks to the forensic doctors themselves that the gaps can still be closed. "Forensic doctors are very loyal with an enormous sense of responsibility and step in when necessary. Without the prospect of a structural solution, and the necessary investment in the field, the forensic services cannot be guaranteed," warns Van den Bergh.
---
---