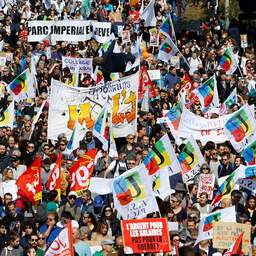 ---
Mar 24, 2023 at 05:24Update: 4 minutes ago
As a result of the protests in France against the pension reform in recent days, 149 police officers have been injured, according to the French government. Across France, 172 arrests were made, 77 of which were in Paris.
In the capital, according to the French trade union CGT, 800,000 demonstrators took part in the protest on Thursday. The Ministry of the Interior speaks of 119,000 demonstrators.
According to police, 1,500 rioters were also present, throwing stones, bottles and fireworks at police and setting fire to rubbish.
More than a week after the announcement of the pension reform by the French government, the protests continue. According to the union, 3.5 million people demonstrated in more than 300 cities in France. The French Ministry of the Interior put it at 1.08 million demonstrators.
Clashes also broke out in the cities of Nantes and Rennes between demonstrators and police, who used tear gas and water cannons. In the port city of Lorient, the police station had to pay for it.
Retirement age goes from 62 to 64
The plans of President Emmanuel Macron and Prime Minister Élisabeth Borne have been gripping the country for some time. The ministers want to raise the retirement age from 62 to 64.
According to the government, the adjustments to the expensive and complicated French pension system are necessary. According to Borne, it would otherwise be impossible to afford because of the growing number of pensioners.
Macron and Borne feared that their pension plan would not make it if parliament voted on it. The government does not have a majority in the French Lower House. That is why the government bypassed parliament with constitutional article 49.3, also known as the 'nuclear option'. It has been used a hundred times before, but never for such a controversial subject.
---
---