Climate change is a tricky subject that we try to simplify for ourselves. We can go too far in this, by denying or exaggerating things. It is therefore logical that misunderstandings about the climate arise, and sometimes it is quite a job to clear them up again.
The UN climate panel IPCC published a major summary of climate science on Monday. This resulted in new insights, but also confirmed earlier insights: the earth is warming up, which has major consequences, and we are causing that warming ourselves.
The oldest climate misunderstandings revolve around denial of those key scientific messages. Ten years ago, for example, you regularly heard people say that the earth was not warming up.
Denying global warming is becoming increasingly difficult
You hear that much less now. The difference may not be so much in the accumulation of scientific evidence – you can measure global warming quite easily – but in people's own experiences.
For example, we saw the extreme precipitation in Limburg in 2021 and the Rhine reached its lowest level ever a year later. Eleven Cities ice cream is increasingly becoming a distant memory, and that is no coincidence either.
And we felt the extreme heat of 2019 in the Netherlands, when it was warmer than 40 degrees here for the first time. That summer heat is increasing faster than expected.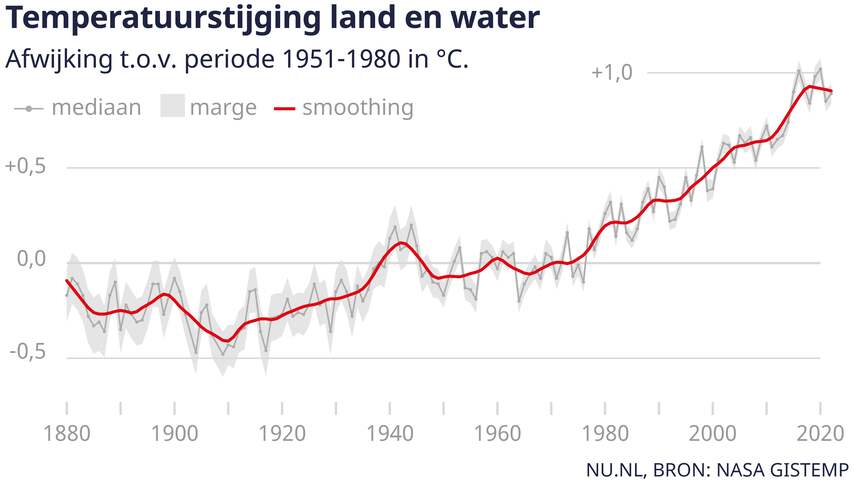 Our CO2 emissions are the cause (not the sun)
There has been a conclusive theory about the causes since the nineteenth century. Physicists then discovered the greenhouse effect and concluded that an increase in greenhouse gases would cause the temperature to rise. And that increase can now also be measured well.
Yet it is sometimes claimed that the warming is caused by the sun. Scientists can debunk this. If the sun were the cause, the atmosphere at an altitude of tens of kilometers would also heat up. But this layer of air actually cools down because the greenhouse gases underneath retain more heat.
In addition, satellites can measure how much energy comes from the sun to the earth. The power of the sun has weakened somewhat in recent decades, while the earth has become warmer.
No, we're not having an ice age anytime soon
As old misunderstandings disappear, new ones can arise. For example, the earth would warm up now, but soon cool down. In fact, some people claim that an ice age is coming soon.
Ice ages and intermediate milder periods are caused by fluctuations in the position of the Earth relative to the sun. Based on those fluctuations, it would be another 50,000 years before a new ice age can begin.
Moreover, that ice age will probably not continue. Our current CO2 emissions will affect the Earth's climate for thousands of years to come. This renders mechanisms necessary for the formation of ice ages inoperative. It could therefore take another 100,000 to 500,000 years before another ice age has a chance.
A similar misunderstanding is that we would soon have a small ice age, precisely because of the aforementioned weakening of the sun's power. Nor can we count on such a shorter cooling-off period.
All ice caps are melting, and also the sea ice around the South Pole
For years it has been claimed that although the ice at the North Pole is melting rapidly, the ice at the South Pole is actually increasing at the same time. That may have been half true at one time, but is now completely false.
It is important to distinguish between 'land ice' (the ice cap) and 'sea ice'. Around the South Pole (the continent of Antarctica) lies a kilometer-thick ice cap. This ice sheet is melting along the edges. The rate of that meltdown has tripled in the past decade. This causes sea level rise.
Around that ice cap (just like on the North Pole) there is also a thin layer of floating sea ice. For example, that ice layer is sensitive to changes in storms. In recent years, this floating sea ice has indeed expanded. But now the sea ice around the South Pole has reached its smallest size ever.
Doubling warming is not inevitable
After all the pessimistic sounds it seems contradictory, but doom thinking is also often based on a misunderstanding of science.
For example, it is sometimes claimed that global warming would still double if humanity immediately reduced emissions to zero. In reality, warming would then stop quickly.
Now emissions are far from going to zero, so the earth will indeed warm up further. Harmful consequences are increasing disproportionately fast. That is why the Paris Agreement exists, with the highest ambition to limit global warming to 1.5 degrees.
The 'chance' of 1.5 degrees is now greater than ten years ago
That climate target is still achievable, if global emissions fall sharply in the short term. Those emissions should then be net zero around 2050, and even negative after that. It should be clear that this requires an enormous effort, and that the chance that it will succeed is small.
Yet it is a misconception that that chance has only become smaller with the passage of time. Ten years ago, the Copenhagen climate summit had failed and the Paris Agreement had not yet been concluded. The world was then on track for almost 4 degrees of warming.
That has since been reduced (based on countries' climate policies for the year 2030) to about 2.4 degrees, and if countries actually do what they promise before 2050 even to 1.8 or 1.9 degrees.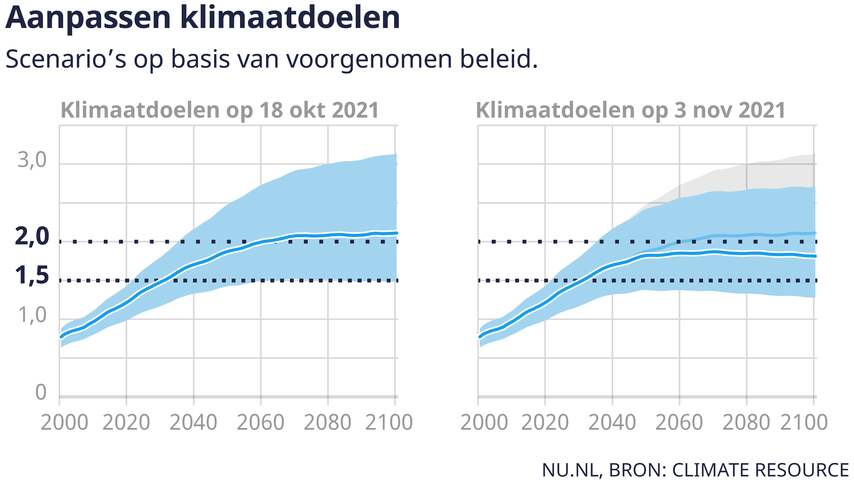 Humanity controls the future itself
The cause of this deflection is that climate policy is indeed being pursued. Countries are focusing on energy conservation, sustainable energy is becoming cheaper, emissions are rising less quickly and the use of coal, oil and gas seems to have (almost) passed its peak.
At the same time, global warming is currently accelerating. That brings us back to perhaps the least comfortable message of the latest IPCC reports: it can still go either way. While the climate system is being better understood, one major uncertain factor remains: humans.
---
---