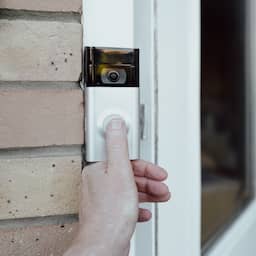 Nearly one million households have a video doorbell. Not everyone handles this correctly. Owners should actually place a sign with information about what they do with the camera images. Failure to do so violates privacy legislation.
According to ICT lawyer Arnoud Engelfriet, owners of surveillance cameras have a duty to provide information. "Putting a sticker somewhere that there is a camera is not enough," he says.
"Actually, you should post a sign with information about your camera system. When the camera films, how long you keep the images and what you do with them, is the minimum information you should provide," says Engelfriet.
In the Netherlands, 12 percent of all households have a video doorbell, according to market research agency Multiscope. This probably concerns hundreds of thousands of violations of the General Data Protection Regulation (GDPR).
According to Engelfriet, households need not be afraid of a fine. "Of course everyone must comply with privacy legislation, but fines are usually only imposed on companies."
AP intervenes in case of complaints
The Dutch Data Protection Authority (AP) must monitor compliance with GDPR legislation. But according to the ICT lawyer, it does not have the budget and capacity to check every individual video doorbell.
However, the supervisor can act after complaints. In that case, the AP can, for example, oblige the owner to remove the camera with a penalty.
When solving crimes, the police like to use surveillance images made by video doorbells, for example. She has set up the Camera in View database for this purpose. 314,000 security cameras have already been registered for this.
According to Engelfriet, the police may keep the database. The police even have the power to demand CCTV footage. This means that camera owners are obliged to provide recorded images to the police. "That is of course not a violation of GDPR legislation."
---
---