Italy's far-right government has dusted off an old plan: a bridge should connect Sicily to the Italian mainland. The inhabitants of the island are relieved, but critics say the plan is pointless and dangerous.
This article is from Trouw. Every day a selection of the best articles from the newspapers and magazines appears on NU.nl. You can read more about that here.
Spring has brought the almond trees and mimosa into bloom in Sicily, but the wind is still cold and strong today. That is why the passengers who have taken the ferry in Messina to Villa San Giovanni, on the opposite mainland, prefer to stay indoors. They wait on dated blue benches until the twenty-minute crossing is over. They don't seem to see the beauty outside – the seagulls that accompany the bright yellow ferry, the swaying palms on the promenade of Messina, the deep blue sea water; most stare at their phones' screens.
If you ask the Italians here, they will tell you that they hate the ferry. Enrico Gemellaro, a police officer in his early thirties with dark brown eyes and a dark beard, has variable working hours. He lives in Messina and works in Calabria, the region where Villa San Giovanni is located. He says: "The ferry connection is terribly inconvenient. My life is dictated by the departure times. I have to plan exactly what time I leave home. If I miss one, I'll be very late for work."
And traveling back and forth isn't cheap. "If you go by car, it will cost you forty euros each time. That's too expensive for me. That's why I own two cars: one for Sicily and one for Calabria. It's insane, but I can't help it."
Rosa Maria Apicella, a young anesthesiologist who looks tired, is also disappointed by the boat. She lives in Calabria and works in Messina. "I take the ferry four to eight times a week. It's stressful. Because if I finish work a little later, or end up in a traffic jam, I miss it. The next ferry doesn't leave forty minutes later. I also have night shifts. If I just miss the ferry at night, I have to wait almost an hour and a half. With the peak traffic in the summer and Christmas, when there are long queues for the ferry, I sometimes wait three hours."
3 km long suspension bridge
There is a glimmer of hope for Agent Gemellaro, Doctor Apicella and all the other heavy users of the ferries between Sicily and Calabria. Because the new, ultra-right Italian government has dusted off an old plan: it wants to build a bridge here, so that Sicily is attached to the mainland. Cars, trains and trucks have to drive over a suspension bridge that is more than 3 kilometers long.
The Council of Ministers officially gave the green light on March 16 and determined that preparations for construction must be completed by July 31, 2024, so that actual construction can start later that year. Minister Matteo Salvini, who is in charge of transport and infrastructure, said on television earlier: "With this bridge, Italy will finally become one. It will be the most ingenious structure in the world." Minister Nello Musumeci of Maritime Policy was also positive about the bridge: "It is essential to strengthen the competitiveness of the south of the country, and therefore of the whole of Italy, in the Mediterranean area. Speeding up the transport of goods and people is necessary to make this area more competitive and attractive for investment."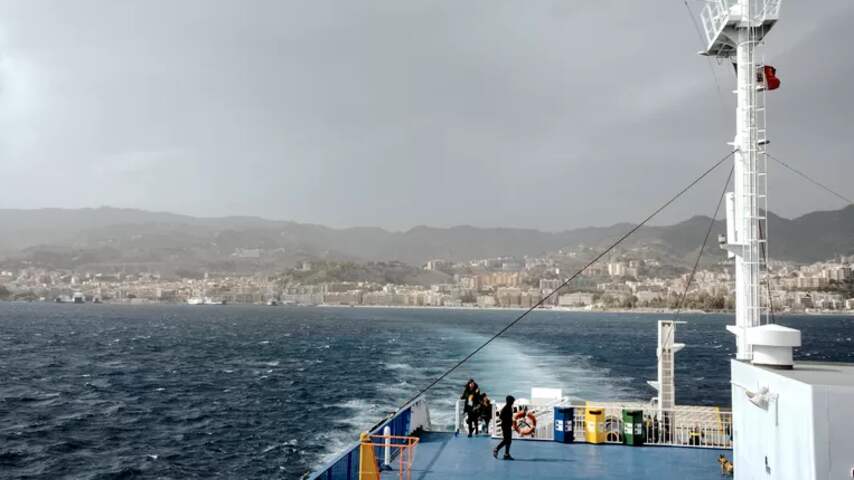 The people on the ferry are skeptical about the plan for the bridge: "We Italians know that our politicians often start projects, but don't finish them." Photo: Merlin Daleman
But there are many Italians who think it's a pointless and even dangerous plan. They point out, among other things, the risk of earthquakes in this region. Salvini parries: "With the latest techniques, engineers are now perfectly capable of building a bridge that can withstand strong winds and possible earthquakes in the Strait of Messina."
Planning for over half a century
Last December, Minister Salvini discussed the construction of the bridge in Brussels. He hopes for co-financing from the Connecting Europe Facility fund (from which money has also been used, among other things, for the new, large parking garage for bicycles at Amsterdam Central Station). After his meeting with the EU Commissioner for Transport, Adina Valean, she said she advised the Italian government to make a solid plan and come back to her with a good proposal.
Plans to build a bridge across the Strait of Messina are nothing new: Italian politicians have been dreaming about them for over half a century. In the 1960s they organized an international competition, which was won by an Italian engineer. His design appeared on the front page of a national newspaper in 1965. In 1981, the then government set up a company to build the bridge.
More than twenty years later, the government of Silvio Berlusconi took more concrete steps: a serious design of a very long suspension bridge, resting on two gigantic pillars that stand on both sides of the Strait of Messina. A consortium led by the Italian construction company Salini Impregilo won the tender worth 3.6 billion euros. But Prime Minister Mario Monti, who took office in 2012 during a severe financial crisis to prevent Italy from going bankrupt, put a big line through the construction. Now, ten years later, the Meloni government seems to want to revive the project.
A bridge that ignites the fire
It is a 15-minute walk from the ferry terminal to Messina's imposing, sand-colored town hall. The walk goes over a wide boulevard with orange trees full of ripe fruit, and new buildings – by Italian standards; in 1908 a severe earthquake knocked this city to the ground. It was later rebuilt. Visitors to the town hall walk on marble floors and pass through 5-meter-high doors to reach Mayor Federico Basile. The right-wing Basile, a tall and cordial man, has been governing his 230,000 fellow citizens for six months. He thinks a bridge between the mainland and Sicily – one of the least prosperous regions of the country, with one of the highest unemployment rates – is an excellent idea. The mayor states: "The bridge could be the spark that ignites the fire of the development of Messina, Sicily and all of southern Italy."
Basile thinks that great prosperity has never been a future prospect for the big island and that little has therefore been invested in infrastructure. The highway from Messina to Palermo, for example, is dimly lit and motorists jostle and slosh over a road surface full of bumps and holes. Slow trains take ages to traverse the island's hills and mountains.
Basile has beautiful visions when he imagines the bridge. "Such a new connection can be an impulse for trade and for major investments. Our island is physically and mentally closer to the mainland. Most people now come to Sicily by plane, a rather expensive and cumbersome journey. With the bridge a train journey from Rome to Palermo can take about five hours instead of the current eight hours. That makes quite a difference." Basile emphasizes that a bridge alone will not work miracles; the infrastructure around it – the Sicilian and Calabrian railways, the roads, the train stations – will need considerable improvement.
But that Il ponte, as the Italians call it, is already more than a fantasy in Messina, as evidenced by the fact that the city council is seriously considering a future with a bridge. Crowds of tourists are cautiously expected. "The bridge itself will be a tourist attraction, because you won't see such a large suspension bridge anywhere else," says the mayor. He is having exploratory talks with museums on the mainland to see how Messina can increase its cultural offerings to serve all those tourists. And he is looking at whether municipal buildings by the sea should perhaps be given a destination that serves the bridge. "It's all speculation, of course. Nothing is certain," says Basile with a big smile. "But I would love it if I could lay the foundation stone of the bridge within my five-year term."
Sicilian and Calabrian mafias
On the ferry, the passengers dream along with the mayor. They expect to pay a toll of five euros on the bridge, and then easily cross the road in five minutes, at any time of the day and night. "Then you might think faster: come on, let's go to Naples for a weekend," says detective Alessandra Colia, who works at the Guardia di Finanza, a service that investigates tax crimes, and lives in the Sicilian municipality of Caltanisetta.
She says 'very much hope' that the bridge will be built. "There is a tunnel between France and England. There is a bridge between Denmark and Sweden. Why shouldn't such a bridge be possible here?" Colia finds the argument of opponents that the Sicilian and Calabrian mafias will suck a lot of money out of the immense construction project weak. "We as the government are able to control this. The fact that organized crime is so strong in this region should not be a reason not to build the bridge." Police officer Enrico Gemellaro smells "freedom" without the rigid ferry departure times.
Just about all of them on the ferry hope it will come. But nobody wants to bet money on it. Because the bridge has been talked about in Italy for a very, very long time, and so far it has never happened. They are skeptical. Anaesthetist Apicella: "We Italians also know that our politicians often start projects, but do not finish them. I am afraid that this will also be the case with the bridge."
What does a bridge cost and what does it yield?
In Italy, a fierce discussion is raging about how much a bridge across the Strait of Messina would cost and what it would yield. Daily newspaper Il Corriere della Sera recently calculated that the bridge – an Italian ghost – has already cost more than 1.2 billion euros in consultants, design costs, engineering firms and compensation for construction companies.
According to Minister Matteo Salvini, the construction of the bridge would now cost 6 to 7 billion euros. He claims that the huge structure will pay for itself within a year and a half.
But economist Carlo Scarpa, who specializes in the transport sector, wrote in January on the economic website Lavoce.it that the exact benefits cannot be expressed in monetary terms. You need a crystal ball to calculate it. Because what does it mean that the crossing will be faster and more flexible, and no longer dependent on strikes and broken ferries? How much will Italy earn from the fact that Sicily will no longer be an island? I don't believe there are clear answers to that.'
---
---