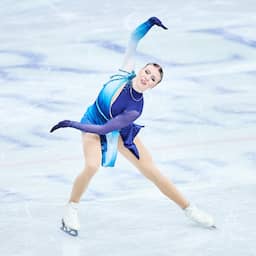 ---
March 22, 2023 at 11:23
Lindsay van Zundert qualified for the free freestyle at the World Figure Skating Championships in Saitama, Japan, on Wednesday. There was also Dutch success in pair riding: the duos Daria Danilova/Michel Tsiba and Nika Osipova/Dimitry Epstein qualified for the finals.
Eighteen-year-old Van Zundert scored a score of 57.56 in her short freestyle, enough for a place in the top 24. After her exercise she was third, but then eighteen participants still had to compete. On Friday morning she will compete in the free freestyle.
Two months ago, Van Zundert rode an excellent short freestyle (58.13) at the European Championships in Espoo, Finland. She then came close to her personal best of 59.24, set at the Beijing Olympics. In the free freestyle, the Brabant woman then grabbed next to a top ten ranking due to two falls, although she did set a personal best with her total score of 175.81.
Van Zundert improved that record last month at the Challenge Cup in Tilburg. She finished there after her free freestyle at 176.84.
Unfortunately, this content cannot be displayed. We do not have permission for the necessary cookies. Accept the cookies to view this content.
Change cookie settings
Free freestyle pair riders on Thursday
Earlier in the day, two Dutch pairs already qualified for the finals. Danilova and Tsiba finished twelfth in the short freestyle with 61.24 points.
Osipova and Epstein finished in eighteenth place with 54.93 points. The top twenty pairs qualified. The free freestyle for the pair riders is scheduled for Thursday.
The Dutch skating association KNSB announced on Tuesday that it is saying goodbye to Aljona Savchenko as national figure skating coach after less than a year. The 38-year-old German with Ukrainian roots still had a contract with the KNSB until the end of 2024.
---
---