It comes from Latin America, can be dangerous and the question is what it contains: tucibi. The hard drug is also called 'pink cocaine' and is on the rise on the European market. On Monday, agents found almost two hundred grams at a suspected dealer in Roosendaal.
This article is from the Brabants Dagblad. Every day a selection of the best articles from the newspapers and magazines appears on NU.nl. You can read more about that here.
Unique, according to a spokesperson for the Zeeland-West Brabant police. He calls the mixture of substances a 'relatively new drug'. "Certainly in the Netherlands. Within our unit we have only encountered this drug once before. However, then it was a significantly smaller amount for one user."
In Roosendaal – where MDMA, weed, GHB, ketamine and speed were also found – it was a dealer quantity. "Just think that a pony pack (the name of the envelope in which users take drugs, ed.) Usually contains one gram. This man had 194 grams in his possession, so you can use that for a while."
According to experts, tucibi is not always the same. Every drug chef has his own recipe. "Different drugs are found in the pink powder. These are often combinations with varying amounts," says Jellinek. Precisely because of this unpredictability, the addiction authority advises against use. "The various agents can have dangerous interactions and overdose is also a risk."
According to Jellinek, MDMA and ketamine, among other things, are often found in tucibi. Users want to combine the pepped-up effect of the MDMA with the floaty effect of the ketamine. "In addition, it sometimes contains 2C-B, levamisole, tramadol, cathinones or other designer drugs."
Speed ​​into cocaine
A United Nations report confirms this. It also mentions speed and caffeine as possible ingredients. Contrary to what the name suggests, there is no cocaine in the mix. Dye is used for the pink color.
Because of that color, the powder is also called pink cocaine, pink cocaine or pink panther. Other names are tuci or tusi. You pronounce tucibi as the English 2C-B. Importantly, according to Jellinek, 2C-B is a different drug. This is a tripping agent, often taken in pill form. The UN report mentions the option that the name tucibi has been given to the drug, because the effects of 2C-B are pursued.
As colorful as the medium is, the world behind it is so dark. Tucibi originated in Latin America, specifically in the Colombian city of Medellín. Vice, which made a documentary about tucibi, calls the stuff "by now synonymous with the new generation of young narcos who produce and sell the drug for use in nightclubs and in the shady tourist sex trade."
According to the makers, it hit the streets around 2010. In Colombia, the drug is six times more expensive than 'white' cocaine and is therefore very fashionable. But those are definitely not the kitchens where armed men 'cook' the drugs.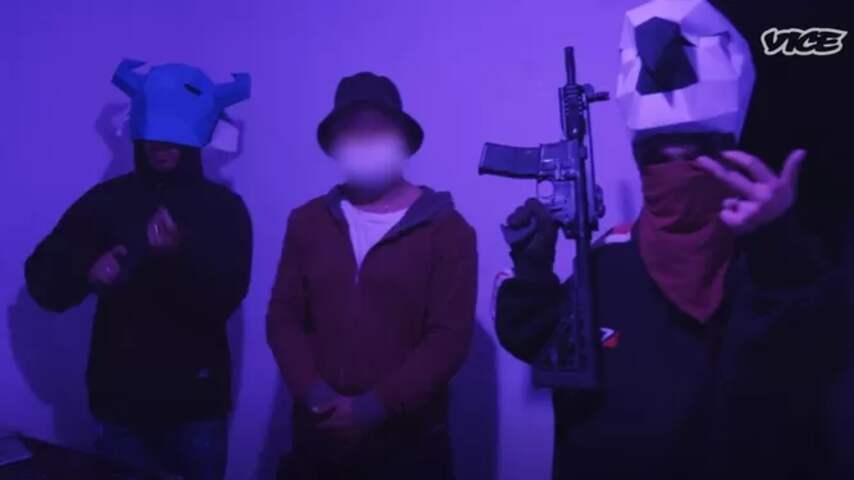 Internet platform Vice made the documentary The Pink Cocaine Wave about tucibi. Photo: Vice
If you google, you will soon come across finds in Peru, Panama, Uruguay and Costa Rica, among others. In recent years, the drug has also spread to Europe. The UN reports finds in the United Kingdom, Switzerland and Austria. But pink cocaine is mainly found in Spain in Europe. It was already hit there in 2018, near Madrid.
In 2021, the Guardia Civil seized 1.65 kilos of 'cocaína rosada' and in August last year more than thirteen kilos were found in Ibiza. The Guardia Civil then said to have dismantled an important, extremely violent international drug ring. Weapons were seized and fourteen people were arrested, including two men in Colombia.
To warn about the effects of tucibi, the Spanish drug safety agency Energy Control started the campaign #TusiSabesLoQueTeMetes (tusi, know what you get, ed.). According to the Spanish newspaper El País, the organization tested about 150 samples of pink cocaine and found "a mixture of various cheaper drugs, ketamine, MDMA and caffeine."
According to the Spanish Observatory of Drugs and Addictions (OEDA), a gram in Spain costs about a hundred euros per gram. Not cheap, so tucibi has the image of a drug for the rich. A 25-year-old user tells El País, "I've seen it a lot in electronic music environments, especially at festivals or big nightclubs."
Roosendaal
The 41-year-old man from Roosendaal is still detained. Several hundred grams of ketamine, about twenty grams of speed, two grams of hemp, ten milliliters of GHB and three grams of MDMA were also found in his home. He also had a baseball bat wrapped in barbed wire and items that could be used to produce drugs.
---
---