He is by far the least known player in the selection of the Dutch national team, but his name has already been linked to Premier League top clubs Manchester United and Liverpool. Anderlecht goalkeeper Bart Verbruggen (20) talks about his rapid advance, his reputation as a penalty killer and the sudden loss of his father. "I always carry it with me a little bit."
Verbruggen's goalkeeper glove has a special logo. They are his initials BV, but the B is written in such a way that you can also see a C in it. "And CV are the initials of my father Coen Verbruggen," says Verbruggen on the edge of the Orange training field in Zeist. "I still carry my father with me a bit, even though he is no longer there. He is going to Paris in the suitcase for the international match against France on Friday."
It is more than two years ago that the father of the youngest keeper in the Orange squad died suddenly. A day before his death in January 2021, they were still fooling around together in the parental home in Breda, after which it was suddenly over due to a cardiac arrest. His father was only fifty years old.
"I think he would be very proud if he saw me at Orange now. My father was there almost every game. From the youth teams at NAC Breda to my transfer to Anderlecht, he has been through it all and I cherish that. But Orange so no. Well, it's life. It happens."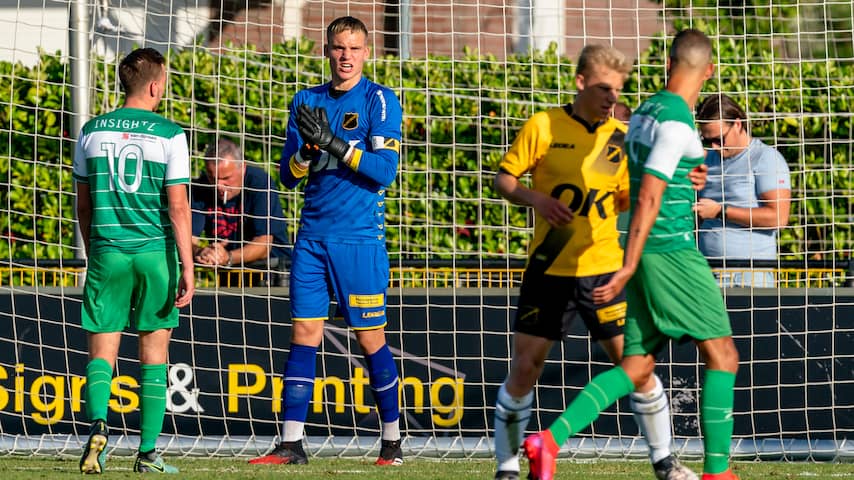 Bart Verbruggen in the summer of 2020 as goalkeeper of NAC in an exhibition game with Baronie. Photo: Pro Shots
Verbruggen is grateful to Ten Rouwelaar
Coen Verbruggen was also a goalkeeper. He just didn't come close to the level of his son, who has been the first goalkeeper of the Belgian superpower Anderlecht for a few months now. "My father always proudly said that he was once scouted by FC Twente. But because my grandfather got a different job and the family moved, he never ended up at Twente."
His father was quite talented. "And he was even a little taller than me", says the 1.93 meter tall Verbruggen. "But he also emphasized that it is about much more than talent. It is also about getting through difficult times and making sacrifices. 'The way you are doing now, I couldn't have done that', my father always said that."
It is also not the easiest road that Verbruggen has traveled. At the age of eleven he joined NAC, the club he was a fan of. In the under 17 team he ended up on the reserve bench, had to fight back and found his way back up thanks to Jelle ten Rouwelaar.
The then goalkeeper coach of the main force of NAC always started working with the youth player Verbruggen after his training. The two bonded, which led to the transfer to Anderlecht in 2020. Ten Rouwelaar first made the switch to the Brussels club and Verbruggen followed not much later. NAC only asked 300,000 euros for the talented goalkeeper.
"I went to Anderlecht and saw what kind of environment I could develop there in. The choice was made quickly. I got the chance to train under former top player Vincent Kompany and was able to continue with the trajectory that I had started with Jelle. It was a no-brainer. I thought: Anderlecht is the place where I can become a very good keeper."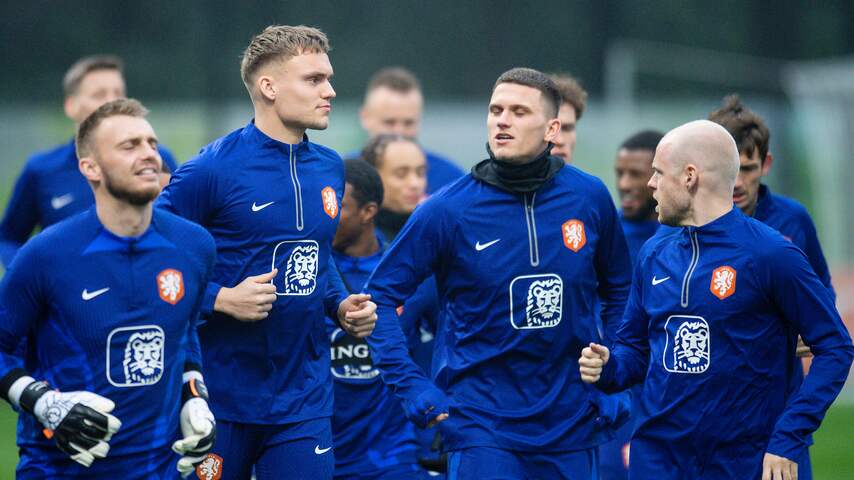 Bart Verbruggen at the Orange training with Jasper Cillessen, Sven Botman and Davy Klaassen.Photo: Pro Shots
Words of praise from Vertonghen
Verbruggen is now well on its way in Belgium. Three months ago he pushed the experienced Hendrik Van Crombrugge out of the starting line-up at Anderlecht, after which he reached the quarter-finals of the Conference League with the 34-time national champion. Meanwhile, English media are already linking him to Manchester United and Liverpool.
"For me, Verbruggen has the potential to become one of the best goalkeepers in Europe," Anderlecht captain Jan Vertonghen told the Belgian newspaper Het Nieuwsblad last week.
The keeper himself has not read it. "But I think it's nice to hear from such a big player as Vertonghen. Is he right?" Laughing: "I'm going to try to show that."
"If you feel good, you can take one"
In the Netherlands, Verbruggen was in the news for the first time last month. In the intermediate round of the Conference League, he became Anderlecht's penalty hero by turning all Bulgarians' penalties in the series against Ludogorets.
It seems to be a specialty, because at the end of last year he guided Anderlecht past Lierse SK in a penalty series in the Belgian Cup. As if that wasn't enough, he also scored the decisive penalty kick himself.
"In training I sometimes took a penalty for fun and that went pretty well. The goalkeeper coach therefore told me to Lierse: 'If you feel good, you can also take one.' And I did."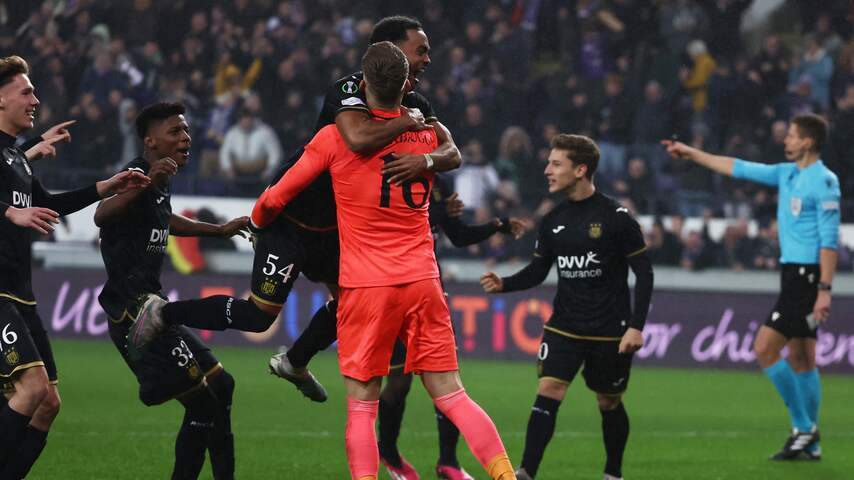 Great joy at Anderlecht after Bart Verbruggen's star role in the penalty shootout against Ludogorets. Photo: Pro Shots
'I'm not here on a school trip'
Perhaps Verbruggen is the penalty specialist whom the Orange, especially under the previous national coach Louis van Gaal, is looking for. Although he himself remains reticent. "It is too early to call me a specialist, but I do like a penalty series. You have nothing to lose as a keeper. No, it is an opportunity to distinguish yourself. I used to think about that as a small child in my bed. Becoming the hero in a penalty shootout was a dream."
It was also a dream to make it to the Orange squad, Verbruggen continues. He had not taken into account that it would already be released, but partly due to the injuries of World Cup keepers Andries Noppert and Justin Bijlow, he was allowed to report to Zeist on Monday. "No, I didn't expect this now. At most in my wildest dream."
Verbruggen does not seem to have to count on playing time this international period – with the game against Gibraltar on Monday after the international match against France. The experienced Jasper Cillessen and Mark Flek are probably higher in the pecking order of national coach Ronald Koeman.
"I have already spoken briefly with the national coach. He said: 'Take a good look around you, try to learn and enjoy.' And I do. But I am also here to deliver quality, I want to show myself. The goal is to stay with the Orange. I am not here on a school trip. "
Program Dutch national team
Friday 8.45pm: France-Netherlands (Paris) Monday 8.45pm: Netherlands-Gibraltar (Rotterdam)
---
---